INDIANAPOLIS—Health officials spoke in some of the bluntest terms yet about Indiana's health situation as COVID-19 cases increase in all age groups and people continue to ignore health recommendations. 
On Friday, State Health Commissioner Kristina Box and Chief Medical Officer Lindsay Weaver gathered the media to comment on the ongoing increase of COVID-19 cases as well as to urge Hoosiers to go get vaccinated.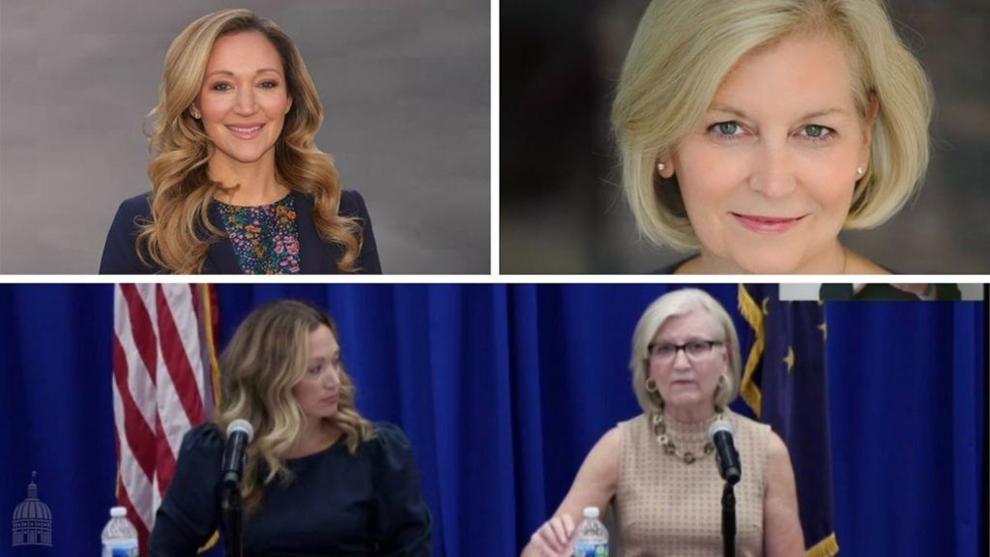 "None of this is good news for Hoosiers," said Box, detailing the impact of the delta variant on the state. "I've heard other medical professionals around the country state that this is the darkest time in the pandemic."
As the U.S. Food and Drug Administration has fully approved the Pfizer vaccine, Weaver said hesitant people should change their minds and go get vaccinated. To date, 3,078,096 individuals are fully vaccinated in Indiana, out of a population of 6,785,528 residents. 
"For many people who are waiting on full approval rather than an EUA (emergency use authorization), this is your chance to protect yourself and the people you love," Weaver said. "Please do not delay. Go get vaccinated."
According to Becker's Hospital Review, Indiana ranks 36th for vaccination rates, with only 45.89% of its population vaccinated. Box said she hopes to have at least 70% of Hoosiers vaccinated. 
In the meantime, Indiana health officials are expecting cases to rise and things to worsen within the next couple of weeks. 
"Things are going to get worse if users do not start wearing masks to prevent transmission and more Hoosiers don't get vaccinated. We are going to see cases continue to increase probably till right after Labor Day, and then we will see hospitalizations follow as far as they increase within the next two to three weeks," Box said.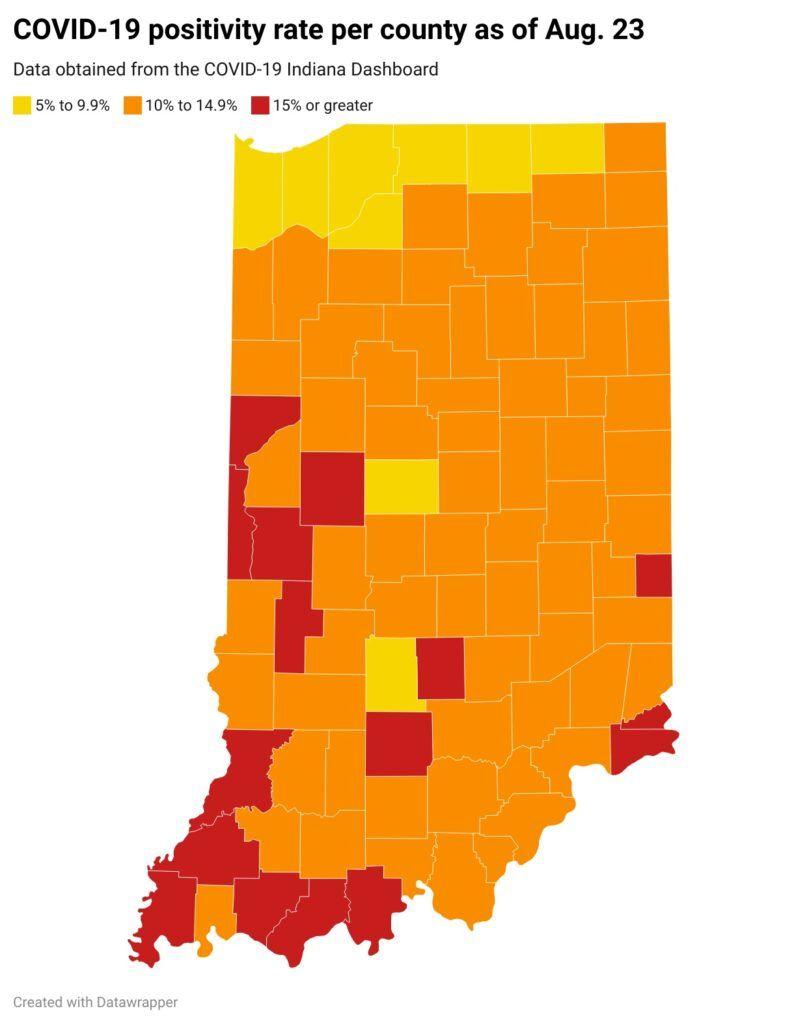 To date, the Indiana county map shows nine counties classified with a red advisory level, meaning a 15% rate or greater, and 67 counties as orange level, with a 10% to 14.9% rate. Residents are advised to follow social distancing and wear face masks due to the high positivity rates in those areas. 
As of Friday, there have been an additional 4,893 positive cases in the state, totaling up to 843,700 COVID-19 positive Hoosiers. 
"As a healthcare provider, to care for somebody who is sick and dying because they haven't gotten vaccinated, young people, pregnant women, older people, and honestly, for a lifetime of being OK with people ignoring my medical advice, this is different," Weaver said. 
"It's feeling different for the healthcare workforce because it's not just [the unvaccinated] that's dying. It's the fact that they're infecting other people who are also getting very sick from it."
Box said hospitals throughout the state are struggling once again and many are at capacity, canceling elective surgeries.  
Out of the 205 ICU patients admitted between Aug. 13 and 21, 204 of them were not vaccinated. Similarly, out of 1,280 hospitalizations, 1,271 were not vaccinated, meaning that people who are vaccinated are less likely to be hospitalized.
Weaver talked about a possible third dose of the vaccine for immunocompromised individuals, meaning that those who are undergoing cancer treatment or cell transplants or taking medication to suppress the immune system as well as those who have advanced/untreated HIV are most likely to be eligible to get a third dose. 
Booster shots for the general public await FDA authorization and recommendation from the Centers for Disease Control and Prevention. 
Schools continue to operate in person with most Indiana school districts recommending masks but not enforcing them. According to information presented at the press conference, there has been a large increase in COVID-19 for younger age groups, with pediatric cases affecting children between 5 and 14 years old. 
"To anyone who argues that COVID-19 does not impact children, I can assure you that every parent with a hospitalized child would disagree. This surge continues to be fueled by the extremely infectious delta variant," Box said.
Presently, only children who are 12 and older are eligible to get the COVID-19 vaccine, leaving the younger group of individuals at risk of infection.  
"I am not sure what additional things to do. Even last year when we had a mask mandate, there were many areas of our state that chose to totally ignore that mask mandate," Box said. 
"I do not understand how wearing a mask is so difficult for people to try to prevent transmitting this virus. I'm a healthcare professional. I've understood evidence-based information my whole life long, and Dr. Weaver deals with that every day. So it's hard for me to understand when I think very clearly the data and the evidence-based information shows that masks decrease transmission of this virus."
Carolina Puga Mendoza is a reporter for TheStatehouseFile.com, a news website powered by Franklin College journalism students.