INDIANAPOLIS—As public redistricting hearings came to an end Wednesday, citizens implored legislators to release specifics of Indiana's new congressional and legislative districts to provide an opportunity for more public feedback.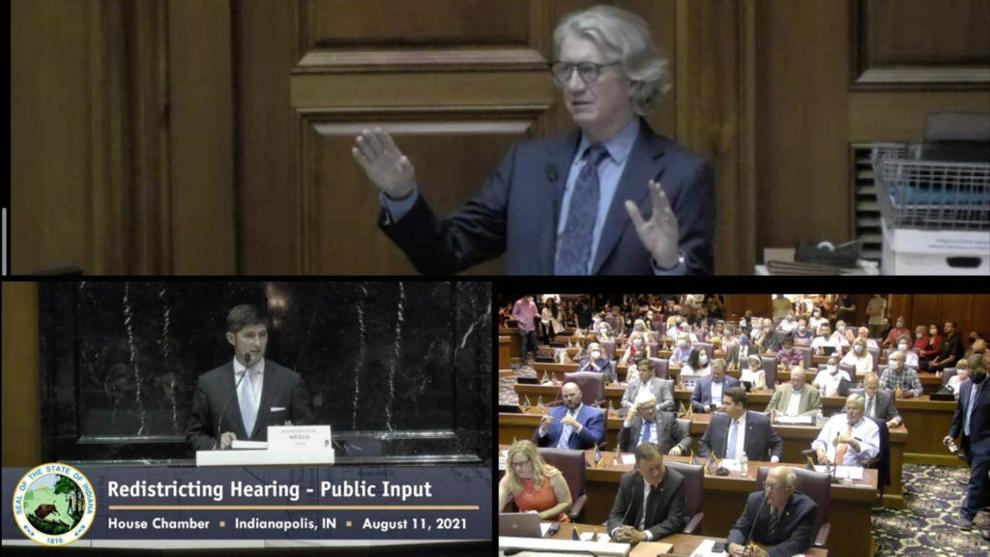 Last week, many of the citizens who attended other meetings around the state expressed their disappointment and frustration towards the current redistricting process, with many alleging gerrymandering in Indiana's 2011 redistricting and a rigged process that doesn't represent its citizens. 
Similarly, the public hearing in Indianapolis at the Indiana Statehouse welcomed a variety of opinions coming from voting rights organizations, concerned citizens, and high school and college youth. 
Most of them continued to express disappointment towards their 2011 redistricting. 
"Redistricting really matters; and Hoosiers, we understand that now -- 10 years ago, not so much, but there's no going back to those days when you could draw maps with a little attention, and public scrutiny," Julia Vaughn, policy director at Common Cause Indiana, said. 
The current process provides Hoosiers the opportunity to comment on the upcoming redistricting, but critics charge the actual mapping will take place "behind closed doors". 
"We must be able to assess the reliability of the data and understand what estimation techniques are used, because there's clearly work going on right now even before the census data has been released," Ami Gandhi, Bloomington resident, said. 
"We Hoosiers deserve a chance to question this legislature about the specific proposed maps, not just to make general comments that will unfortunately probably get swiftly ignored. We demand it and so does the law." 
Some of those testifying were Republicans expressing their disagreement with their party. Marilyn Moran Townsend, a Republican member of the Indiana Citizens Redistricting Commission, said the current process serves only to give incumbents an advantage to ignore constituent's opinions. 
"We understand from our voters that they believe that unfair maps by either party leads to less representative government. It leads to more abuses in government, it leads to more extreme government, and it leads to [a] less responsive government," Moran Townsend said. 
"It is all bad for democracy."
Gerrymandering occurs when a political party utilizes a state's redistricting process as a way to increase its political influence. While partisan gerrymandering has been upheld in the courts, racial gerrymandering is not and could lead to a possible lawsuit. 
Some of those testifying criticized Indiana House Republicans hiring lawyer Jason Torchinsky from Washington D.C., claiming that they did so to protect themselves from possible racial gerrymandering lawsuits. 
Jay Yeager, an Indianapolis lawyer who has worked in recent gerrymandering litigation, called attention to the hiring. 
"We saw in the news yesterday the hiring of a political consultant from Washington D.C., who is an expert on defending gerrymanders. He's not an expert in drawing fair maps, he's not an expert in determining whether equal votes are weighed equally, just the opposite," Yeager said. 
"Now I have nothing against Mr. Torchinsky, I've sat across the courtroom from him. He's a fine lawyer, but let's not mistake where he's coming from. He's not coming from a place of fairness, he's ready to defend a partisan gerrymander."
One of those testifying went as far as comparing the Indiana government to North Korea and China. Others commented that legislators' actions are not based on their constituents' wishes but upon financial considerations. Many said they're worried about the future of Indiana's politics and what gerrymandering will do to its residents. 
"There's tremendous passion in this room, but basically no disagreement, we pretty much all agree we should have fair districts, right?" resident Robby Slaughter said. "So why is there so much passion for something that pretty much everybody agrees on? It's because we don't believe it's going to happen...If we did, we wouldn't be here." 
Carolina Puga Mendoza is a reporter for TheStatehouseFile.com, a news website powered by Franklin College journalism students.
Editor's note: This story was amended to correct the spelling of Robby Slaughter's name.