INDIANAPOLIS—After one of the worst workplace shootings in Indiana and the third mass shooting in Indianapolis this year, lawmakers are sending their condolences and pushing for conversations about how to address gun violence. 
Late Thursday night, a mass shooting at the FedEx Ground Plainfield Operations Center near the Indianapolis International Airport left eight people murdered, several injured and the suspected gunman dead by suicide. Five employees were transported to the hospital with injuries. 
FedEx employees are not allowed to have their phones with them while working, so many could not call for help or let their families know they were OK. Family waited to hear if their loved ones were alive from a Holiday Inn Express nearby. 
The Indianapolis Metropolitan Police Department and the FBI are working with FedEx to investigate the incident. They have identified the suspected gunman as Brandon Scott Hole, 19, who was recently fired from the company. 
Marion County Chief Deputy Coroner Alfarena McGinty said at a morning press conference with Indianapolis Mayor Joe Hogsett that the entire staff of 30 at the coroner's office is working on this incident and are going to need counseling.
"I've been with the coroner's office for 23 years. I've not seen this capacity in terms of the number of mass fatality shootings in a short period of time," McGinty said. "It is very disturbing."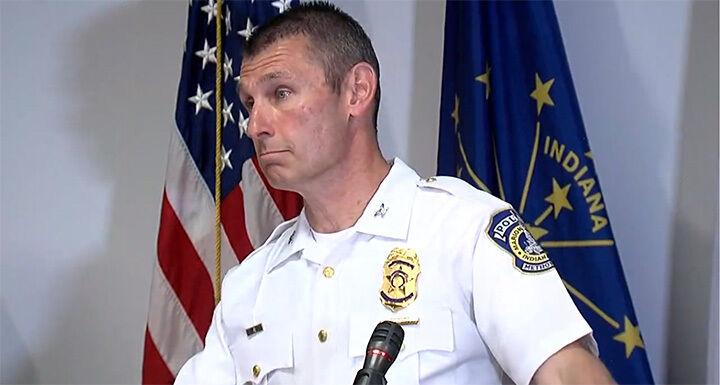 Hogsett said at the morning press conference Indianapolis is resilient and will recover. 
"Nothing we learn can heal the wounds of those who escaped with their lives, but who will now bear the scars and endure the memories of this horrific crime," said Hogsett 
Meanwhile, several legislative leaders offered reactions and prayers for those involved. 
"The IBLC stands with the people of Indianapolis today and every day to offer our support and services during this time of mourning," said Indiana Black Legislative Caucus chair Rep. Robin Shackleford, D-Indianapolis, in a statement. "May we all find comfort in one another as we reflect on the memories of those we have lost."
U.S. Sen. Mike Braun expressed thanks to law enforcement and those who responded to the situation. 
"Maureen and I just learned of the tragedy in Indianapolis when we woke up. Our hearts are mourning for the individuals who've senselessly lost their lives, all of their loved ones, and their co-workers at FedEx who will be dealing with this tragedy for a long time to come," Braun said in a statement. 
However, Braun said he is against President Joe Biden's plan for gun control announced before the shooting in Indianapolis. 
"We all want to keep guns out of the hands of criminals and the dangerously mentally ill, but that can't come at the expense of infringing on the rights of law-abiding citizens like a federal assault weapons ban—a one-size-fits-all approach from the federal government rarely works on any issue, including the Second Amendment," Braun said in a statement on April 8. 
Indiana is ranked 21st in the nation when it comes to gun violence. While it is a requirement to have a permit to carry a handgun, there were almost 160 firearm deaths in Indiana in 2020. Indiana has the 22nd highest violent crime rate.
This is the 45th mass shooting in the U.S. since the one in Atlanta, Georgia, on March 16.  
While several states have passed bills hoping to reduce gun violence, a bill was introduced in the Indiana General Assembly this session to repeal the law requiring a permit to carry a handgun. The bill passed the Indiana House but died in a Senate committee. Another bill would create a Crime Guns Task Force that would focus on investigating and tracking firearms used in crimes. The bill is awaiting signature from the governor to become law. 
While lawmakers have pursued laws to make getting guns easier, others have proposed measures to change how citizens purchase and store guns. 
Rep. Mitch Gore, D-Indianapolis, co-authored a bill that requires law enforcement to have de-escalation training to be part of their mandatory pre-basic training. The bill was signed by the governor on April 1. 
Gore also offered an amendment, which was not adopted, that would require responsible firearm storage. Gore believes more must be done and said he plans to bring up this issue in the final days of the session. 
"We can and must do better. We have the resources, the data and the policy outlines to meaningfully address both the access to firearms for those who shouldn't have them and the underlying issues that cause people to use them with such devastating effects," Gore said in a statement. 
Gore said he is a gun enthusiast himself but gun violence needs to be addressed in the General Assembly. 
"This session we've seen efforts to roll back the common-sense firearms legislation that we already have when we should be advancing it as much as possible while respecting the Second Amendment," Gore said. 
Hogsett said Indianapolis city chaplain and victim assistance counselors are nearby for those who need help processing the event or just need to talk. 
"This is another heartbreaking day, and I'm shaken by the mass shooting at the FedEx Ground Facility in Indianapolis," Gov. Eric Holcomb said in a statement. "In times like this, words like justice and sorrow fall short in response for those senselessly taken." 
Holcomb has ordered flags to be lowered to half-staff from Friday until sunset on Tuesday. 
Alexa Shrake is a reporter for TheStatehouseFile.com, a news website powered by Franklin College journalism students.