By Haley Carney and Brandon Barger TheStatehouseFile.com INDIANAPOLIS—On a sunny afternoon in Carmel, the River Road Fields are filled with parents and high school athletes. They are constantly moving around the area, from one field to the next. The speed of the game is fast, with little room for error. This could have been America's Game, football. Or America's Pastime, baseball. Instead, it's a sport that has its origins not in the United States, but across the Atlantic in Europe. That sport is soccer, called football in other countries, and it quickly is becoming bigger and bigger in the United States. One of the players on the soccer pitch that afternoon was Cassidy Eckstein, a 16-year-old senior center-midfielder from Carmel High School. She first started playing soccer 11 years ago. "I really liked the competitiveness of it and I liked how fast the game was moving," Eckstein said. She expects soccer in the United States will continue to grow, just as it has been growing since the U.S. Women's National Team first became an international phenomenon. [caption id="attachment_39618" align="alignright" width="400"]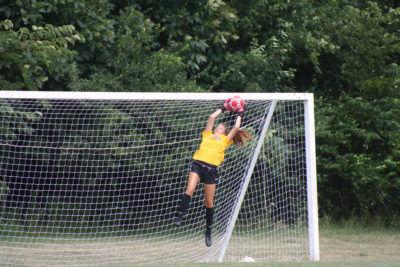 Junior Goalie Erin Baker,15, stops a set piece in warmups during the pre-season event on July 27.
Photo by Brandon Barger,TheStatehouseFile.com[/caption]  "I think a ton of people look up to them because our men's team isn't as strong," Eckstein said. "And the women's team is making girls' soccer a lot more favorable and enjoyable to play or watch." Some of Eckstein's favorite players, Rose LaVelle and Mallory Pugh, are among the 23 players on the United States Women's National Team. On July 7, this team made history by winning a consecutive World Cup title and their fourth title overall in their 28-year history. In all, the women have beaten the world's best women teams with World Cup titles in 1991, 1999, 2015 and 2019. The U.S. women also have won Olympic gold medals in 1996, 2004, 2008, and 2012. [caption id="attachment_39614" align="alignright" width="400"]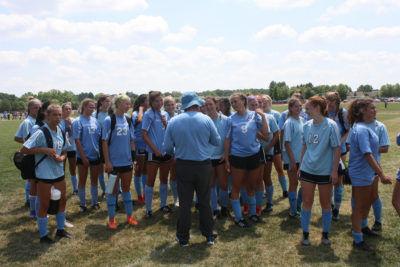 Carmel Head Coach Frank Dixon talks to the members of the St. Joseph's women's soccer team during the 2019 DASSS pre-season event in Carmel on July 27.
Photo by Brandon Barger, TheStatehouseFile.com[/caption] According to the online site Statista.com, the numbers of high school female soccer players grew from 375,681 in the 2014-2015 school year to 381,529 the following year. Since then, it's grown to a record high of 390,482 female high school soccer players in the United States. Women's soccer hasn't grown this much since the women's team won its first ever World Cup in 1991. Scoring leader Michelle Akers and assist leader Carin Gabarra helped lead that team to victory with a 21-6-1 record through the year. Phil DePauw, teacher and coach at St. Joseph High School in South Bend, believes that while the latest win by the women's soccer team will help the growth, it won't be as substantial as the 1991 win. "I think the earlier success of the 90's probably had a bigger impact than it will now," he said. "So many people are aware of women's soccer and are fans of it now." Youths have been picking soccer to play as a sport over games such as football and basketball. A Gallup poll in 2017 showed 7% of Americans named soccer as their favorite sport to watch. This may seem staggeringly low, but that's more than double the 3% who picked soccer as their favorite sport in 2013. Football was polled at 37%, down from 39%, and basketball decreased from 12% to 11%. Baseball is still beating soccer at 9%; however, it has decreased immensely, down from 13% in 2013. Abby Dickerson, a 17-year-old senior also from Carmel High School, has been playing soccer since she was two years old. [caption id="attachment_39620" align="alignright" width="400"]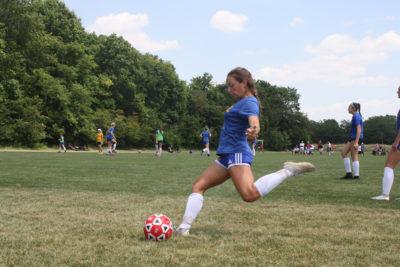 Senior Carmel defender Abby Dickerson,17, sends a forward pass in warmups during the 2019 DASSS pre-season event on July 27.
Photo by Brandon Barger,TheStatehouseFile.com[/caption] While she thinks playing any sport is important, "soccer was the most fun to me so I stuck with it," she said. She had the opportunity to watch the 2019 FIFA Women's World Cup, held in France, in person – even though she prefers playing to watching the sport. Like Eckstein, Dickerson expects the popularity will only grow. And so, she said, should the pay. Earlier this summer, Gianni Infantino, head of FIFA, the world governing body of soccer, proposed doubling the total prize money divided among the women's teams to $60 million in 2023. This year's U.S. team got $4 million of the $30 million pot. It was only $15 million in 2015, when the champions got $2 million. Yet even by doubling the prize the last two championships, the women's take remains far short of the $400 million purse for the men's teams in their last World Cup championships in 2018. Dickerson said the pay gap between women and male athletes is understandable in some sports, but with the women's team being so successful, the gap should decrease. Frank Dixon, head coach of Carmel High School women's soccer and coach for the past 29 years, agrees with Dickerson, although he did not always. Originally, he said, he believed teams should get compensated by how much money they bring in. But he has changed his mind. "It costs them just as much to eat, just as much to wash their clothes, just as much to stay in a hotel as the men," Dixon said. "The guys running USSF (United States Soccer Federation) gotta be completely tone deaf to allow that to happen. I mean, I get it back in the day women's soccer was just kind of a 'all right, we gotta do it because we support soccer.' But now, as big as it is, how could they just let that go on?" Haley Carney and Brandon Barger are reporters for TheStatehouseFile.com, a news website powered by Franklin College journalists.