INDIANAPOLIS—The Indiana High School Athletic Association is warning sports fans about a trend in internet scamming. 
It involves hundreds of what look like real high-school sports livestreams on Facebook, Twitter and YouTube that are actually phishing attacks attempting to steal your personal data and install malware on your device.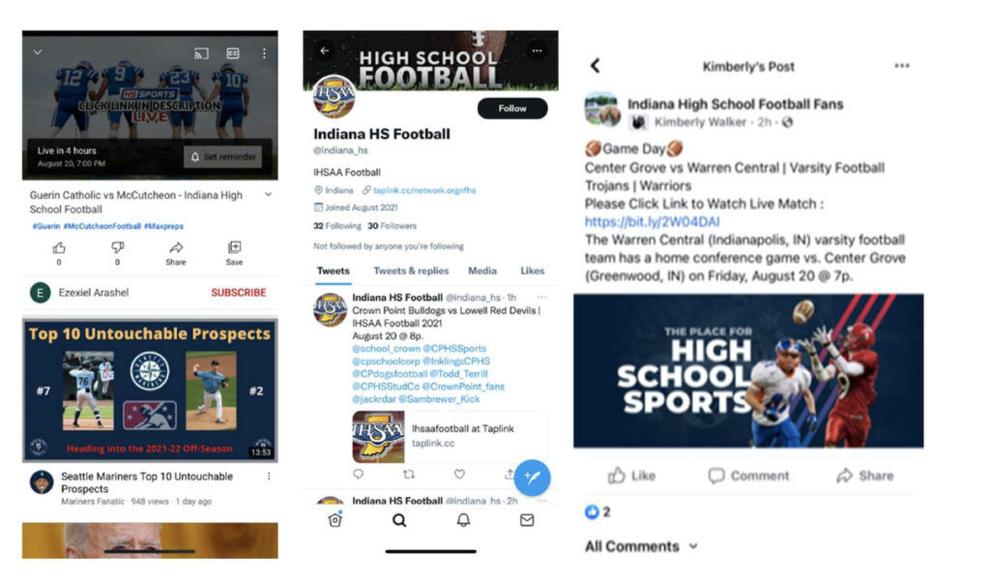 These posts and links look real, but one big giveaway: They ask you to enter personal information, something you absolutely should not do. 
Since the beginning of the COVID-19 pandemic, scams like these have been on the rise. The FBI's Internet Crime Complaint Center received almost 30,000 complaints about COVID-19-related scams in 2020. 
According to Investopedia, COVID-19 scammers may pose as health organizations like the CDC or a local health department. They may promise to sell in-demand products like personal protective equipment that never arrives. They may also pretend to be banks, debt collectors, investors with enticing offers or a nonprofit requesting donations.
"Unfortunately, scammers know that livestreaming is more important now than it has ever been," Heath Shanahan, IHSAA director of broadcasting, said in a press release. 
"This is a new way for someone to take advantage of the high school sports fanbase. We want to make sure that fans of our member schools do not fall prey to these scammers."
The IHSAA's official video streaming platform is the IHSAA Champions Network, IHSAAtv.org. Some member schools use this platform for their broadcasting as well. In cases where schools livestream elsewhere, be sure to check with your local school's athletic department for the correct location to view your favorite team.
IHSAA released a statement about the 2021-2022 school year in which it said it is up to each local school district to determine if they can safely conduct athletic practices and contests due to COVID-19—including if spectators are allowed to attend practices and contests. 
Claire Castillo is a reporter for TheStatehouseFile.com, a news website powered by Franklin College journalism students.