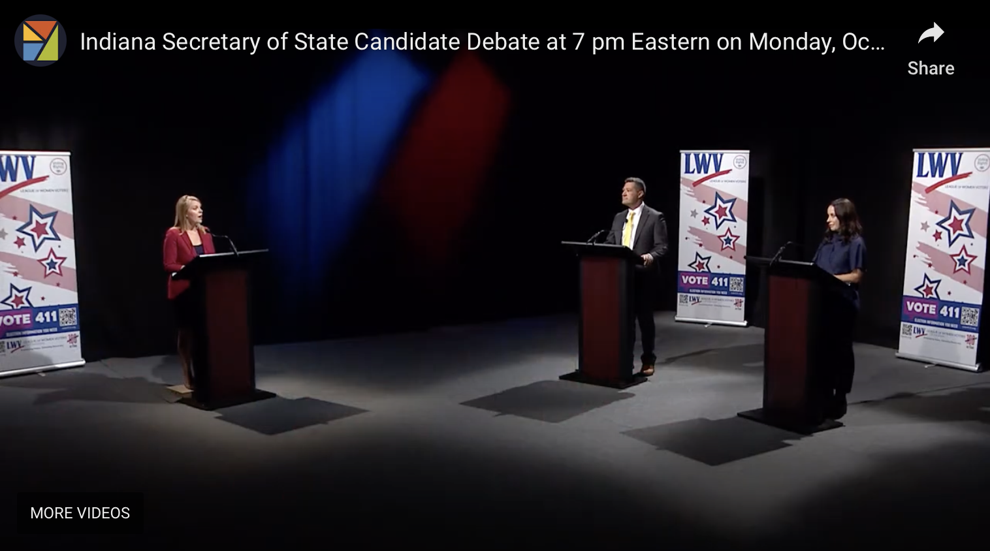 Two of the candidates for Indiana secretary of state, Democrat Destiny Wells and Libertarian Jeff Maurer, held their second debate of the campaign Monday at WFYI studios in Indianapolis, and the absence of the third candidate,. Republican Diego Morales, did not go unnoticed. 
Morales, who did not participate in an earlier debate in Indianapolis, was instead at the Warrick County Republican Party at their Lincoln Day Dinner on Monday. Morales received a lot of pushback from his fellow candidates about not showing up. 
Wells criticized his campaign's recent purchase of a car with campaign funds and called him an election denier. Maurer compared Morales to Vladimir Putin in his closing remarks. 
"For candidates that refuse to debate, the company you keep is Vladimir Putin," Maurer said.
The debate was sponsored by the League of Women Voters of Indiana and moderated by University of Indianapolis Professor Laura Merrifield. 
This race might be the first time in 10 years that a Democrat could win a statewide seat in Indiana, according to recent polling. 
A noticeable difference between the two candidates at the debate was their views on voter fraud and audits. 
Maurer continually pushed for a 92-county audit of election results. He said he believed that there could be improvements in the system, such as having voting receipts so that individuals could track their vote and when it's counted.
"The only falsehood is believing that everything is perfect," Maurer countered. "That's delusional. What instead we need to do is focus on making things better."
Wells, however, argued that there was nothing wrong. She continually emphasized that Indiana's elections are safe and secure. She said that Maurer's idea of an audit would "add fuel to the fire" and make people distrust state elections even further and give the overworked clerks even more work to do than they already have.
"As secretary of state, we must be operating from a fact-based, evidence-based place. And so yes, we do have a voter trust problem, but that is because we have been living through the last few years of perpetuating a big lie," Wells said.
Speaking of elections, when asked if President Joe Biden was fairly elected, both Maurer and Wells agreed that he was. Morales wrote an op-ed titled "The 2020 election was flawed and the outcome is questionable." 
Both Maurer and Wells discussed low voter turnout. Maurer pointed to a lack of competition among candidates while Wells said it was because of the state's 2021 redistricting. 
"Think about a restaurant that has only one menu item on the menu and it's something that you hate," Maurer said. "How often would you go to that restaurant? The answer is probably never."
"We've been going throughout the state saying that Indiana is not a red state," Wells said. "It is a purple state with a voter turnout problem."
The election will take place on Nov. 8.