INDIANAPOLIS—Indiana now requires women wanting an abortion to get an ultrasound 18 hours before the procedure, part of a new law that came into effect after a four-year legal dispute with Planned Parenthood.
While the bill became law in 2016, signed by then-Gov. Mike Pence, it was challenged by the abortion-rights group Planned Parenthood and has been held up by lawsuits ever since. The group argued the law puts an undue burden on patients seeking an abortion that's been legal under federal law since the U.S. Supreme Court's 1973 decision on Roe v. Wade.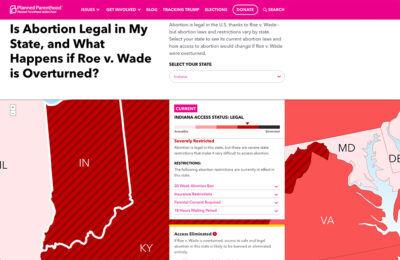 The Roe decision protects a woman's right to choose to have an abortion without major government restrictions, although states are allowed to regulate abortions. A separate 1992 decision, Planned Parenthood v. Casey, clarified states can't pass laws that create an undue burden on women trying to get abortions.
Planned Parenthood agreed to drop the lawsuit challenging the Indiana bill in August 2020, allowing the bill to come into effect at the start of this year. Representatives for the group did not immediately respond to a request for comment. 
According to The Associated Press, one possible reason Planned Parenthood ended the lawsuit is because it obtained new ultrasound equipment at the Fort Wayne clinic. The group also cited "events" over the last three years but did not go into detail. 
Former Attorney General Curtis Hill, who defended the law by saying ultrasounds are necessary because they help patients better understand the procedure and what it means for their health. 
"Anyone interested in protecting women's health, including their mental health, should support giving them as much information as possible to aid their decision making," Hill said in a press release. "This new law serves to empower women with knowledge." 
The anti-abortion organization Indiana Right to Life released a statement Jan. 4 claiming it expects to see a drop in abortions with the new law. Abortions overall in Indiana are on a slight decline. 
The Indiana State Department of Health reported 7,637 abortions were given in the state in 2019. In 2015, Indiana had a total of 7,957 abortions. These numbers include residents and non-residents. Around 64.6% of those abortions took place within the first eight weeks of pregnacy, according to the report, while 34.8% were within nine to thirteen weeks of pregnancy and .53% occured after 14 weeks of pregnancy. 
According to Planned Parenthood, 27 other states have waiting periods and similar ultrasound requirements, including Kentucky, Texas, Ohio, Tennessee and Arizona. A chart on Planned Parenthood's website breaks down current abortion restrictions.
Rep. Sue Errington, D-Muncie, voted against the new Indiana ultrasound requirement in 2016. She was on staff with Planned Parenthood for 17 years as the public policy director after starting out as a volunteer, an experience she said showed her there's more nuance to sexuality and reproduction than what's discussed in lawmaking. 
"I do feel that in the state and the country we don't put enough emphasis on prevention, family planning and funding so that it's available to anybody that needs it," Errington said. "And of course sex education is really important." 
That's why Errington said she is introducing a new measure, House Bill 1366, this session to require more medically and scientifically accurate conversations about human sexuality and sexually transmitted diseases in accredited schools. 
Errington said the new abortion law makes access to abortion harder for women. The waiting period can cause a financial and emotional burden on women, especially for those who might have to travel because abortions aren't offered where they live. 
"A wealthy woman isn't going to have as big a problem coming up with the money to spend a night in a hotel as someone who has more modest income. A woman who already has children is going to have to find someone to take care of the child or children while she's gone," Errington said. "So I think [the law] doesn't give all Hoosier woman equal access to safe and legal abortion."
Kyra Howard is a reporter for TheStatehouseFile.com, a news website powered by Franklin College journalism students.