INDIANAPOLIS— Sen. Ron Alting, R-Lafayette, recalls when he was a kid, he could swim and fish and eat the fish he caught. That is no longer the case in many places in Indiana. 
"I want generations to come to have the enjoyment I did as a boy with the environment," Alting said.
Leading the charge, a group of high schoolers from Alting's district called Confront the Climate Crisis seeks to change generational damage and engage lawmakers on the issue of climate action in Indiana.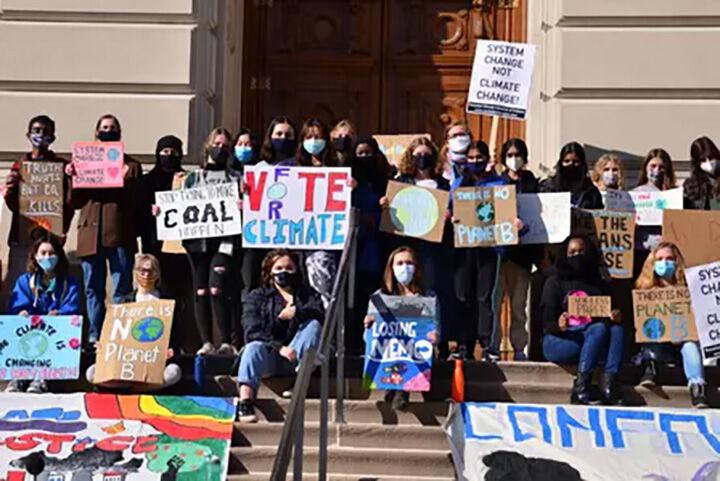 "We are leading one of the largest youth-led movements that our state government has ever seen," Rahul Durai, Confront the Climate Crisis operations director and a West Lafayette High School student, said in a press release.
The group has passed out information at festivals, promoted petitions and plans to keep going with other events.  
"It is important that people become aware of our efforts, as we are preparing for monumental statewide climate action in the near future," said Sofi Alge, Confront the Climate Crisis communications director and a West Lafayette High School senior. 
Alting worked with the group this past legislative session on a bill that would have created a climate task force. It never made it out of the Senate. 
Alting said it was their bill, not his—he helped them through the process of revising and talking with committee leaders to get the bill moving forward. 
"This is a young group of people who have an incredible passion for climate change to make a difference in our communities, state and the world," Alting said. "It's about persistence.
"Look at the world. We have crazy fires everywhere, hurricanes at record levels, rain at record levels, and droughts in other parts of the country." 
Ethan Bledsoe, a member of the group, said in a press release, "We can't go any further, we can't do any progressive things about the climate if you can't even acknowledge that climate change is an emergency or that it's an issue."
The group has worked toward climate action at the local and national levels as well, even holding discussions with U.S. Congress members. 
"They've been busy and really working this," said Alting. "I want them to see that their state government does work and to give them hope that they can make a change."
Alting mentioned how bills on climate rarely make it far in the legislative process. 
"Those bills have struggled to see the light of day," Alting said. "We could do more. We could always do more."
Confront the Climate Crisis hosted a climate strike in West Lafayette Friday. At the event, Alting spoke on his role with the group and the students discussed their plans moving forward. 
Alting said, "It could be this next generation that makes a difference in climate change."
Alexa Shrake is a reporter for TheStatehouseFile.com, a news website powered by Franklin College journalism students.