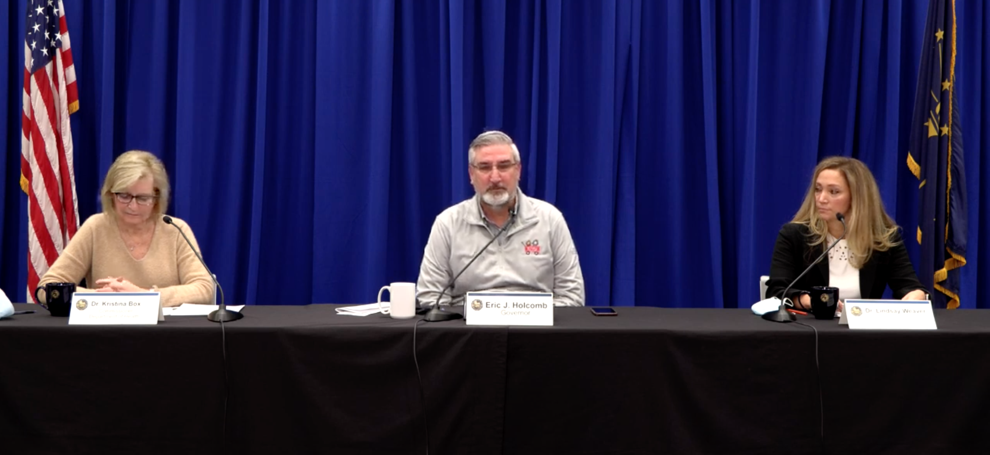 With just over half of the eligible Indiana population vaccinated, Gov. Eric Holcomb and state health officials returned to screens for the first time in months Wednesday to give a briefing on the current surge in COVID-19 cases and hospitalizations.
Hospitalizations associated with the virus have increased by 700% since late June, according to Dr. Kristina Box, head of the Indiana Department of Health. Dr. Lindsay Weaver, chief medical officer of the department of health, said 80% of hospitalized COVID patients are unvaccinated.
Amid the surge, Holcomb asked that Hoosiers convince their loved ones to consider getting the vaccine.
"If you have been vaccinated and you've gotten your booster, that's not all you can do," he said. "And if you can appeal to folks who are skeptical of the efficacy of the vaccine, please do that."
Holcomb attributed some vaccine hesitancy to disinformation, referencing recent comments by Indiana Attorney General Todd Rokita on WSBT, a news station covering the South Bend area.
"I don't believe any numbers anymore, and I'm sorry about that," Rokita told the TV station last week. "This has been politicized since Day 1. I think we have to focus on whether people are dying anymore."
Holcomb said he was blindsided by these comments and that the numbers coming from the Indiana Department of Health and its collaborators are accurate.
"Anyone that is spreading misinformation or disinformation regarding our reporting, to me, is just fanning the flames of confusion," Holcomb said. "And that's exactly what we don't need at this time."
After falling to 6% in October, the positivity rate in the state is hovering around 14%, according to Box. The department of health is expecting a steep increase in cases over the coming weeks, she said.
Indiana is also experiencing a shortage of rapid tests. Local health departments, the Indianapolis Motor Speedway testing location, long-term care facilities, schools and jails have been going through about 50,000 rapid tests per week provided by the state. But a national shortage means the state will now receive just 11,000 of the Abbott BinaxNOW tests a week.
"This is a national problem, not just an Indiana issue, and it's making it more difficult for Hoosiers to find rapid testing when they need it," Box said.
Hoosiers should not visit the emergency room for testing but instead go to one of the 650 testing and vaccination sites across the state, Weaver said. There has been an overwhelming demand at the testing sites, so visitors should fill out all paperwork online and prepare to wait.
The first case of the omicron variant in the state was detected 11 days ago. The delta variant still remains the dominant COVID-19 variant in the state, but Box said the omicron variant will likely take over soon because it is known to be more infectious. 
During the briefing, health officials had some positive news to share. The Centers for Disease Control and Prevention recently released adjusted quarantine guidelines that Weaver said are backed by the Indiana Department of Health. 
The guidelines shorten quarantine for COVID-positive people from 10 days in isolation to five days,with required masking for the five days following. For those exposed to COVID-19 who have not received the vaccine or a booster, the rules for quarantine are the same. If individuals develop symptoms or have them past the fifth day, they are recommended to continue quarantining or isolating, Box said.
Weaver gave an update on the new treatments available for people with COVID-19. However, each treatment will be available in extremely limited quantities and require a prescription. 
"It's important to remember that there is simply not enough medicine to go around right now, and do not bank on being able to get a therapeutic when you need it," Weaver said.
When the medicines are distributed to providers, they will appear on the state's treatment map.
Weaver also pleaded with Hoosiers who incorrectly believe a prior infection is enough to keep them from getting COVID-19 again. A prior infection only provides 19% protection from the omicron variant, she said.
"Bottom line, don't rely on natural immunity to protect you," Weaver said. "Even if you had a mild case the first time, your symptoms could be more severe the second time if you are not vaccinated and boosted."