INDIANAPOLIS—Reginald O. Jones Sr., a Hoosier businessman, community leader and mentor, is the state's newest recipient of the 2020 Sachem Award, the state's highest honor.
Gov. Eric Holcomb presented him with the award last week in a ceremony that honors those who have lived lives of virtue and excellence, bringing honor to Indiana. Previous recipients include Holocaust survivor Eva Mozes Kor, Rev. Theodore M. Hesburgh, president emeritus of the University of Notre Dame and world statesman, and long-time businessman and civic leader P.E. MacAllister.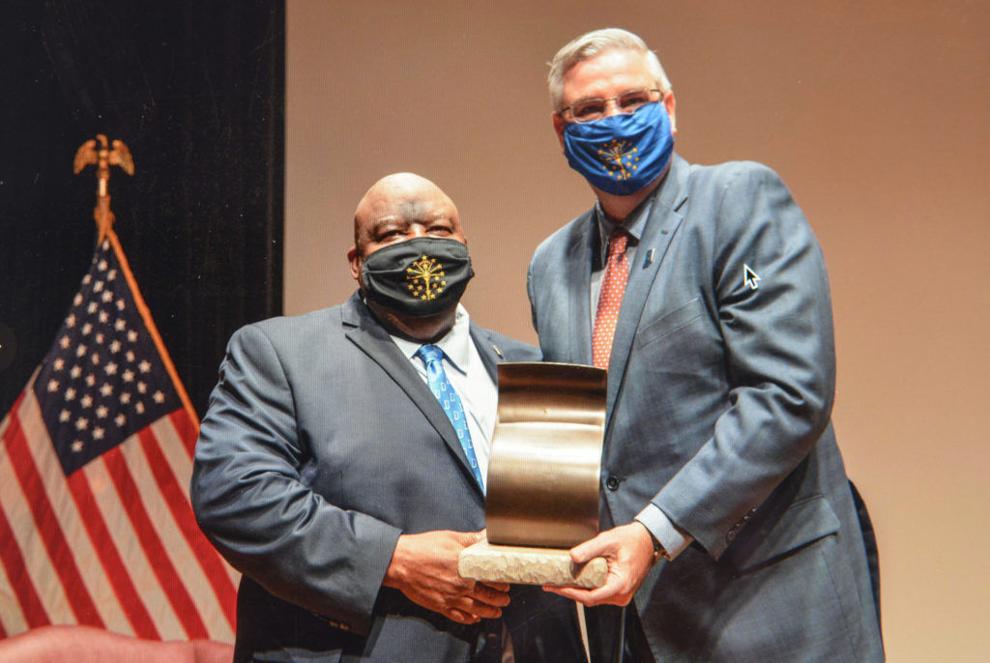 Jones grew up in a small four-room home with no running water and very little food in Prichard, Alabama. After spending time in the Army and working his way up the corporate ladder, he moved to Indianapolis in 1996 and purchased two McDonalds located at 38th and Illinois streets, and 16th and Meridian streets. 
Jones created educational scholarship opportunities for his employees created a program at Indianapolis Public Schools to encourage children to do well in school by giving them free bicycles. He has given away more than 10,000 bikes in 20 years and has become known as "McMiracle on 38th Street." 
His work has been duplicated in McDonalds franchises across America and paved the way for him to be awarded the Rev. Charles R. Williams Excellence Award given by the Indiana Black Expo.
Currently, Jones owns four different McDonalds in central Indiana and has continued to help his employees accomplish their goals. He has received two Ray Kroc Awards, which honors the top 1 percent of McDonald's restaurant managers from around the world, a regional Ronald Award for his outstanding contributions to customers and the community, and a Ronald McDonald House Charities Award of Excellence.
Jones has also received a Certificate of Appreciation for Community and Business Endurance from the U.S. Department of Commerce, a Sagamore of the Wabash from Gov. Mitch Daniels, and has been honored by the NAACP.
After graduating Magna Cum Laude with an undergraduate degree in Business Management and Marketing from Martin University, Jones returned back and received an honorary doctorate.
Despite all of these awards over the years, Jones has still remained active in the community. He serves on the Wheeler Mission President's Advisory Council, the Indiana Volkswagen Environmental Mitigation Trust Fund Committee, and the Crossroads of America Council, Boy Scouts of America Executive Board.
Jones lives in Indianapolis with his wife, Tracey, and their two youngest daughters, Rebecca and Regina.