INDIANAPOLIS—In 2020, Gov. Eric Holcomb delayed the primary election from May until June and loosened restrictions on absentee voting as Indiana coped with the outbreak of COVID-19. 
Under legislation proposed a year later, he wouldn't be able to do either. 
Senate Bill 353, authored by Sen. Erin Houchin, R-Salem, would limit the authority to change the "time, place or manner of holding an election''—including the loosening of requirements for absentee voting—to the General Assembly. Currently, the requirement to obtain an absentee ballot is to fill out an application and to meet certain criteria such as being in poor health or out of the voting precinct at the time of the election.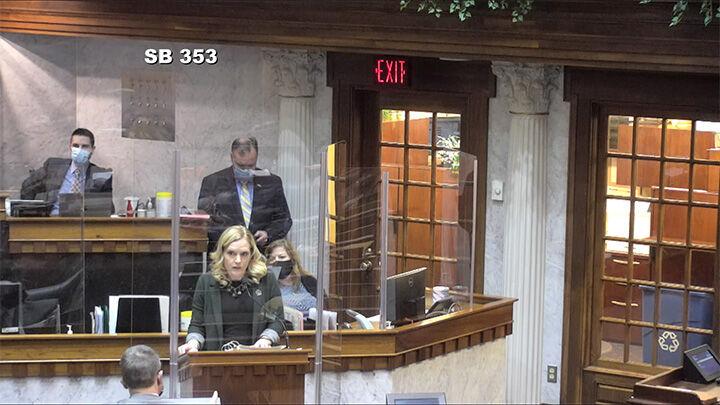 The legislation is being considered as Georgia is seeing the fallout from a controversial election bill. While the bills have significant differences—for example, Indiana's does not include the provision that voters cannot be offered food or water while waiting in line at the polls—both require additional documentation when applying for an absentee ballot. 
The American Civil Liberties Union opposes Houchin's bill, which since its introduction has been amended to require a driver's license number or the last four digits of one's Social Security number when applying for an absentee ballot. 
"SB 353 would disenfranchise tens of thousands of Hoosier voters by requiring additional, costly and unnecessary documentation," Katie Blair, public policy and advocacy director, said in a statement after the bill's introduction. "It is especially appalling that following a general election fraught with voter hurdles due to the COVID-19 pandemic, some Indiana legislators are focused on making it even more difficult for Hoosiers to cast a ballot."
The bill,  set to be heard Tuesday morning in the House Elections and Apportionment Committee, was passed by the Senate in February. In presenting the amended bill to the Senate, Houchin said it would ensure that the legislative branch of government had a voice in the conduct of elections. 
"It gives the General Assembly the opportunity to weigh in in an emergency," said Houchin.  "The point of the bill is that we won't have what we had across the country. We will not see courts and statewide elected officials and others who are not the General Assembly making changes to the time, manner and process by which we vote.''
During the Senate debate, Sen. Greg Taylor, D-Indianapolis, noted the new limits that the bill would place on voting, saying, "We should want 100% of the people to vote, so we should make it easy."
Alexa Shrake is a reporter for TheStatehouseFile.com, a news website powered by Franklin College journalism students.