INDIANAPOLIS—After the 2020 election, with many Republicans claiming there was voter fraud, several laws went into effect across the U.S. limiting voting access. While most Republicans agree these laws are needed, most Democrats do not. 
Last week, Common Cause of Indiana, the Sierra Club and the League of Women Voters of Indiana hosted a rally outside Sen. Mike Braun and Sen. Todd Young's officesat the Indianapolis Statehouse in support of the federal For the People Act of 2021 (H .R.1). Some 75 people attended the rally, according to Julia Vaughn, policy director of Common Cause Indiana.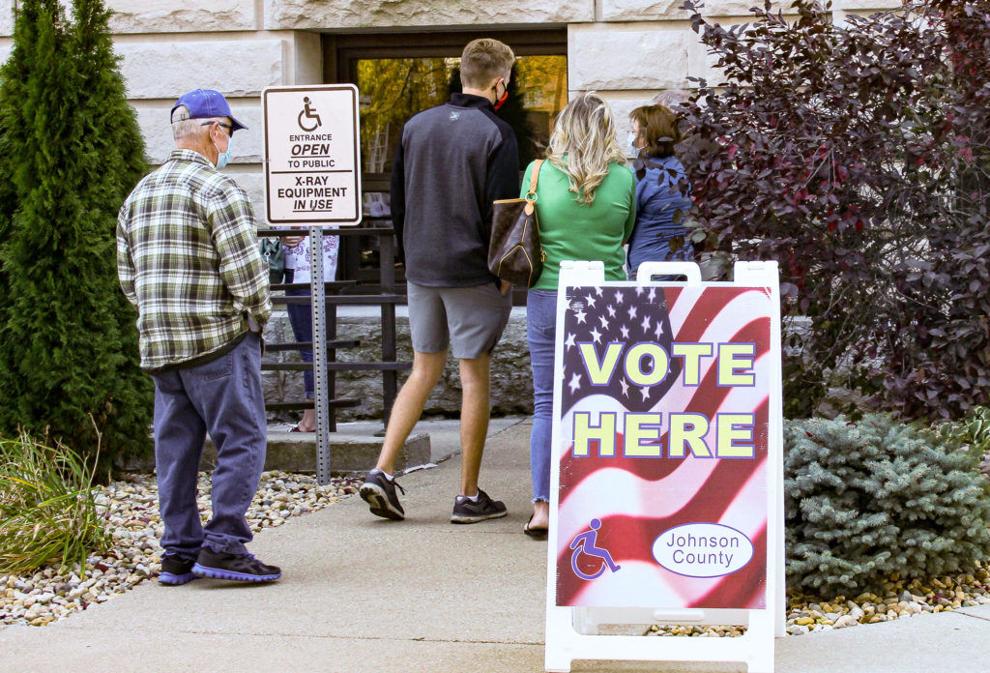 H.R.1 addresses voter access by expanding registration, election integrity and security. In 2020, record numbers turned out to vote, but according to Vaughn, there are numerous attempts across the country to undermine voting access. Indiana is currently ranked in the bottom 10 for voter turnout among states in the U.S. 
The 2021 session saw the Indiana Assembly grapple with several voting-related bills, including Senate Bill 353. SB 353 would have required proof of citizenship in order to vote but died in the last hours before the end of the session. 
"It's disappointing to those of us who worked as advocates for voters to see attempts to make voting more difficult and make it less accessible," Vaughn said.
Support is split between parties for the federal bill, with Democrats in favor and Republicans not. Both Sen. Mike Braun and Sen. Todd Young have released statements highlighting their disapproval of the bill. 
"Indiana does elections right, with voter ID, ample time to vote early, and absentee voting that is accessible for those who need it but not universal. I am against H.R.1 because I believe states should run our elections, not the federal government," Braun said.
"National Democrats want to gut popular voter ID laws like in the state of Indiana," Young said. "I know what Hoosiers believe. Hoosier believe you should have to prove who you are in order to vote. This For The People Act says, 'No, you don't have to prove who you are. We'll just take you at your word.'"
Vaughn believes that when it comes to deciding rights for voters, it should be considered that these rights will affect everyone.
"Having clear and easy access to the ballot is something that benefits all voters, not just one party," Vaughn said.
According to an article by The New York Times, Texas could become the 18th state to enact laws limiting ballot access. Republicans have been passing these laws after Donald Trump spent months claiming there was voter fraud in the 2020 election. 
Over 150 companies such as Google and Amazon have signed a letter to Congress asking for expansion of voting protections for minorities. H.R.1. would update the 1965 Voter Rights Act, according to CNBC. 
"Despite decades of progress, impediments to exercising the right to vote persist in many states, especially for communities of color. We need federal protections to safeguard this fundamental right for all Americans," the companies wrote in the letter.
Atiba Madyun, president of Party Politics U.S., a nonpartisan outlet founded to encourage people to come together to engage in political dialogue, believes that voter suppression laws are made so that it is harder for black, brown and poor voters to vote, with an ultimate goal of making those demographics not come back and vote in 2022.
"Unfortunately, what we are seeing is that there are these sort of suppression laws that people are saying are Jim Crow 2.0," Madyun said. "There were these things that were put in place to make it harder for people to vote and what we call a democracy, as opposed to making it easier to go."
Tabby Fitzgerald is a reporter for TheStatehouseFile.com, a news website powered by Franklin College journalism students.