INDIANAPOLIS— The Indiana House Democrats released alternative redistricting maps Wednesday for the Republican supermajority to consider. 
In a press conference at the Indiana Statehouse Wednesday afternoon, Rep. Matt Pierce, D-Bloomington, said the maps passed through the Indiana House Election and Apportionment Committee Monday are going to maintain the status quo of Indiana's gerrymandered districts.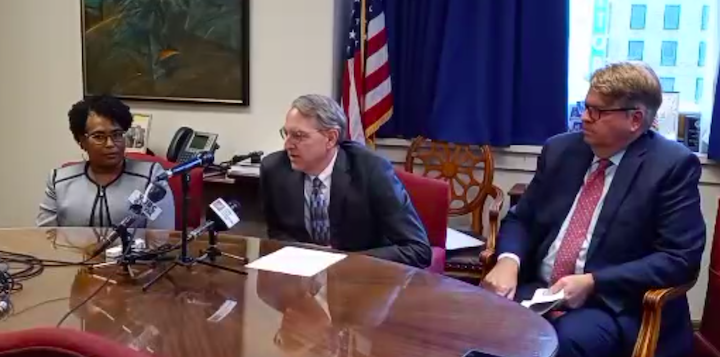 With the maps drawn in 2011 being a success for the Republicans, Pierce said all they had to do this year was fight the population shifts.
"All we are essentially saying is we should have a map where you have a fighting chance in as many districts as possible," he said. 
Pierce argued that it is hard for the average Hoosier to have their priorities get on the legislative agenda. He said the House floor does not fear public opinion anymore unless those opinions are from base Republican primary voters. 
"That's what's driving their agenda," he said. 
His biggest frustration, Pierce said, was the inability to analyze the Republicans' proposed maps before they were discussed. During the public hearings held around the state back in August, there was nothing really to talk about because the maps had yet to be released. Then, Pierce said, when they were released, the public was given just 24 hours to analyze the maps before giving public testimony. 
With the Senate's proposed redistricting maps just released Tuesday, Pierce said he has not yet been able to analyze those and talk them over with Senate Democrats. He would not be surprised, however, if Senate Democrats have an alternative Senate map drawn up as well. The maps he championed were generated by a map-drawing contest organized by the Indiana Citizens Redistricting Commission, a citizens' advisory group composed of members of both major political parties and independents.
There will be a meeting for public testimony about the Senate maps at 9 a.m. Monday in the Senate Chamber of the Statehouse. The Senate Committee on Elections will then meet again Sept. 28 for an amend-and-vote-only meeting. Meanwhile, the House held a second reading for its maps Wednesday, with a third reading expected Thursday.
Haley Pritchett is a reporter for TheStatehouseFile.com, a news website powered by Franklin College journalism students.