The Indiana Statehouse welcomes about 60,000 visitors each year. Some of these people receive a tour of the building with their families, while others enter for school field trips and youth advocacy. Some Hoosiers visit the epicenter of state government to learn how decisions are made, while others visit to share their own thoughts.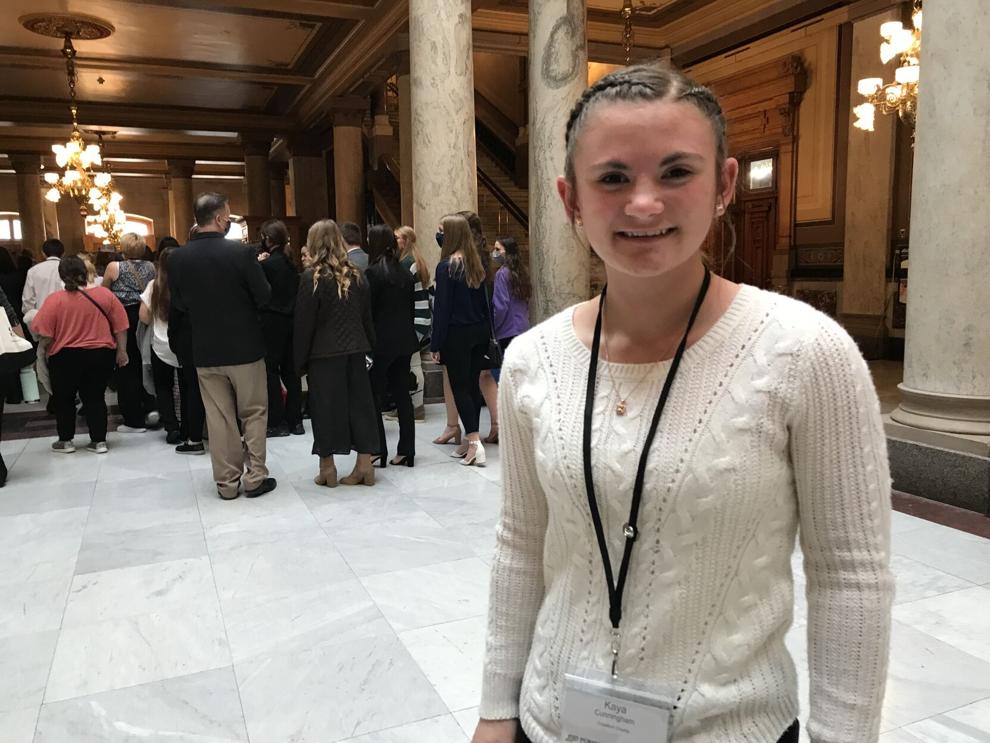 Kaya Cunningham, a 4-Her from Crawford County, roamed the Statehouse with a herd of friends this spring and was attracted to the decor of the building. 
"They said there's like real gold on some of the stuff, like the chandeliers. I thought that was pretty cool," Cunningham said. 
She spends most of her time in the pasture, rather than palatial state government quarters. So far, she's found cows to be much more stubborn than elected officials.
"First of all, you have to let the cow know that you're in charge. Last year, I was trying to get the bowl for the cow, and it kicked me in the butt. I didn't know what to do: I was crying and laughing at the same time," Cunningham said. "You have to learn to overcome your fears, especially when you're showing animals." 
It hurts when a 1,500-pound cow steps on you, she explained. 
When she wants a more chill atmosphere, she makes leather earrings and sells them to her coworkers at Jasper Engines. 
"When the locusts come out and, like, they die and stuff, I take their wings and make earrings out of them," Cunningham said. "Crafting has been in my family a long time." 
Crawford County is a good place to explore the natural world because it's blanketed by the Hoosier National Forest. She and some fellow club members launched the county's first official hiking club, meeting at Yellow Birch Ravine in Taswell for their first hike. 
While Cunningham enjoys her county's trees, she realizes the forest is seen as a financial strain by other residents. Because Crawford County hosts the national forest, a significant portion of the county's land is owned by the federal government, meaning she and her neighbors receive no revenue from the forest land. She and other 4-Hers discussed this issue with Rep. Steve Bartells, R-Eckerty. 
"He's trying to help our county a lot. He's trying to help with the taxes because our taxes are high for land and stuff," Cunningham said. 
Aside from hiking, Cunningham said her 4-H club promotes STEM fields, including through crafts and a makers' space.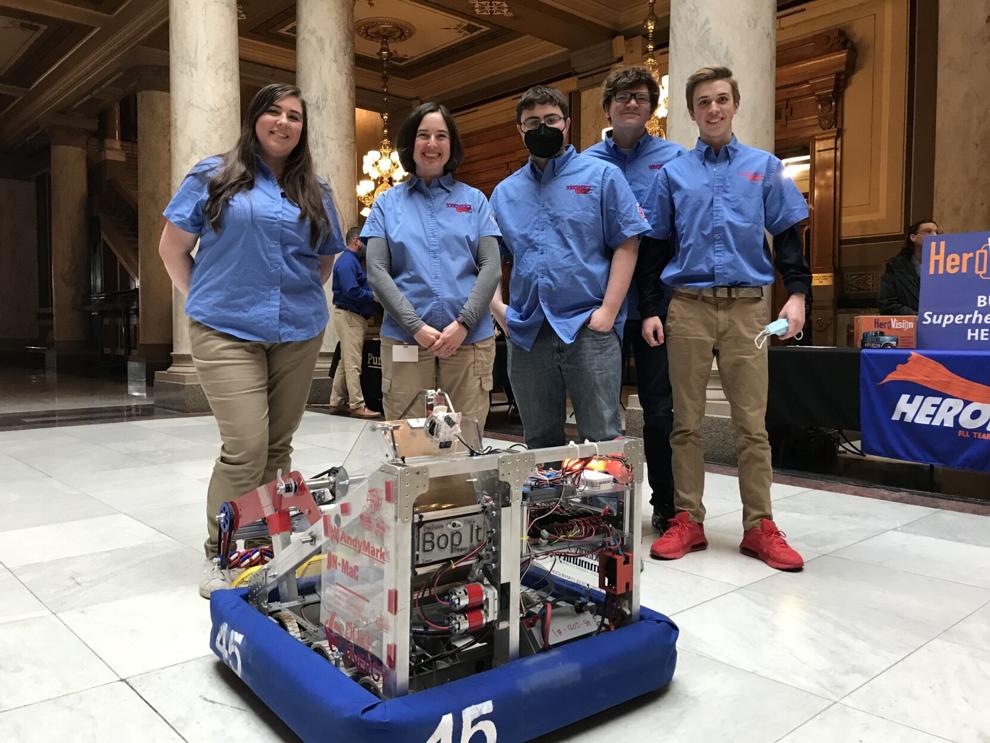 Another Statehouse visitor the same day, David Brothers, knows a thing or two about STEM. 
He is a member of Kokomo High School's TechnoKats Robotics Team that participates in the annual FIRST Robotics competition, where teams from around the world are given six weeks to build a robot from scratch. Teams benefit from the advice of top-of-the-line engineers.  
"At the core of it, it's to have friendly competition with kids around the country and to teach a new generation of engineers," Brothers said. 
Brothers, a high-school senior, said his school pushes STEM scholarship by offering a career center where students can take career-based classes such as agricultural management and welding. 
The TechnoKats visited the Statehouse atrium to show off the team's robot, named "Bop It," and allow the bot to play catch with kids. In competitions, the robots are judged by their ability to participate in a game, such as shooting a ball into a basket. 
TechnoKats coach Joy Dewing planned the trip. 
"It's a good chance for them to show off the robot and be comfortable but also to see how the state works and get to meet some of the reps," Dewing said. 
The team formed in 1992 and has been teaching kids workforce skills ever since. During competitions, a pool of 30 to 40 teams is divided into alliances of three teams. This structure fosters mutual respect. 
"We really work on what we call gracious professionalism because who you're competing against now might be your partner later. In the real world, these people you're competing against now are going to be your colleagues," Dewing said.
Eighty-five percent of TechnoKats alumni enter STEM fields, Dewing explained. Some know from Day 1 that engineering and technology is their friend, while others join on a whim. 
"It gives kids a chance to try those things out before college, when it costs a lot of money, or before getting into a career that they hate," Dewing said. 
Brothers wants to major in business and computer science when he attends college.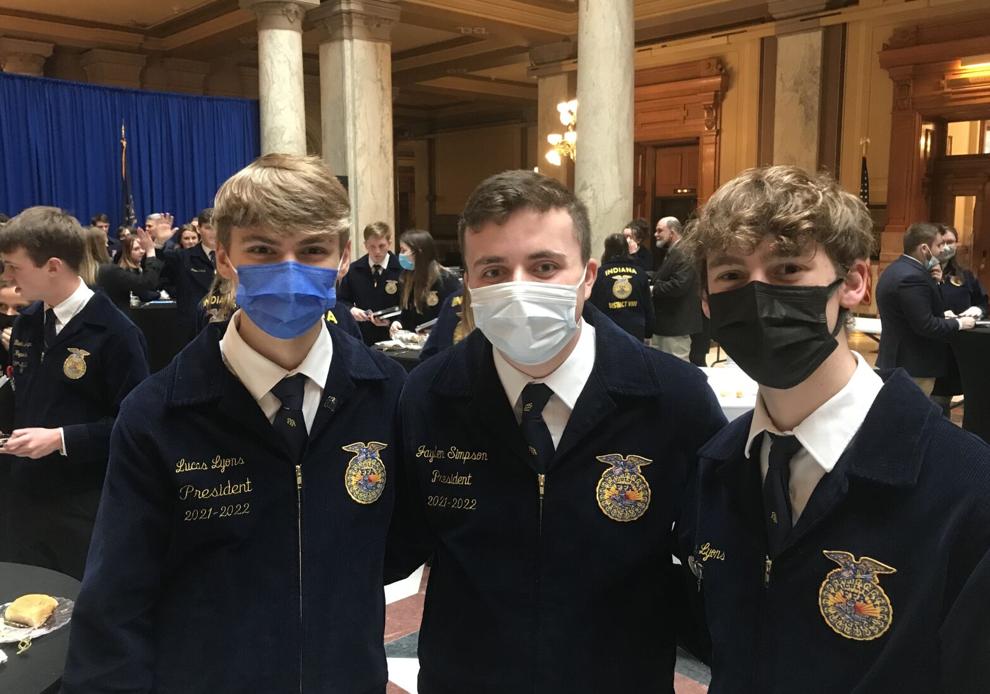 Indiana FFA District 7 President Jayden Simpson came to the Statehouse this spring to advocate for the interests of the Indiana Farm Bureau. He wants to improve life for rural Hoosiers. 
Firstly, he wants increased funding for agricultural and technical education in primary schools, especially for rural schools that struggle to keep up with technological innovations. He said this will help young people learn more about where their food comes from and expose them to pressing topics like genetically modified organisms and animal rights.  
Enhanced broadband access in rural areas will also improve rural Indiana life, he continued.
"We need to make sure people in rural communities have the ability to still be connected to the outside world through internet, as today in the 21st century, we definitely still need internet to stay active within our communities," Simpson said.
Nick Lyons, a sophomore at Jay County High School, said he visited the Statehouse to find his voice.
"It's just for a lot of the FFA members to get more involved, ... so that we can get our word out there to our state reps and senators. This is a great way for us to be heard," Lyons said.
His high school is losing funding for agricultural education because the middle school recently merged with the high school. This means certain subjects, such as agriculture, are being deemphasized. But Lyons said his FFA chapter is one of the largest in the state, and he wants to keep it that way. 
The Indiana General Assembly decides how much of the state government's funding is allocated toward agricultural education, while local school boards have the power to cut or add programs in school corporations as needed. 
Although Lyons said the situation is mostly out of students' control, the chance to talk to public officials is a golden opportunity to let decision makers know the impact of their actions.
"We don't really get much say in the funding. We usually hear about it after it happens," Lyons said. 
Giving youth a platform to speak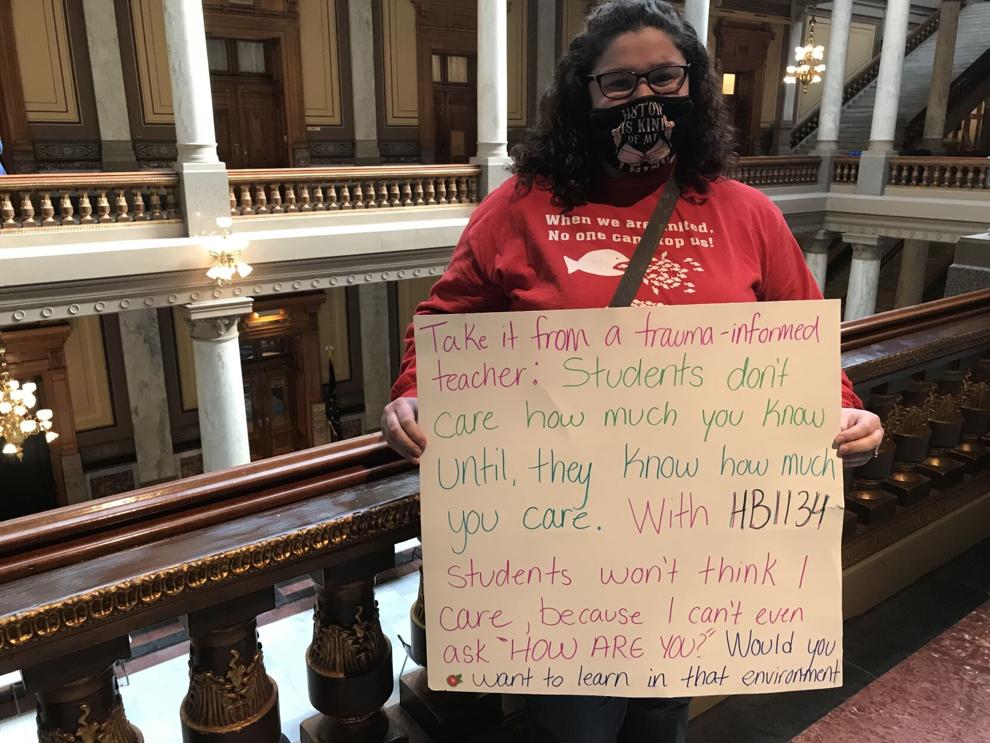 Kalisa Baker, a social studies teacher at Oakland Academy in Lafayette, visited the Statehouse this spring to protest House Bill 1134, which died in the Senate. If it had passed, the bill would have created a curriculum advisory committee to approve classroom content and prohibited the teaching of certain "divisive concepts."
She asked Sen. Brian Buchanan, R-Lebanon, to vote no on the bill because she felt it would have given parents too much influence on classroom topics. 
"I'm supposed to be creating active and engaged citizens, but I can't do that with House Bill 1134 because I can't promote students engaging in public policy," Baker said. "What good is an education if it doesn't make you think critically?"
Oakland Academy is a small program school for kids who "fall through the cracks" of typical public schools. It caps its enrollment at 60 students and employs four full-time teachers. Nearly all of the students receive free and reduced-price meals based on their parents' income level. 
Baker said she wouldn't be able to help students if every action required parental consent. 
"Where I teach, a lot of the kids come from abusive households. I am the only person that advocates for a student a lot of the time—the parents aren't in the picture. I can't get them to sign a paper that says, 'Yeah, give my kid Tylenol if he has a headache," Baker said. 
And it's impossible to plan out a semester before it starts, Baker said. Her syllabi always change because classroom drama can make certain topics impossible to discuss. She has to change on the fly, especially if a recent fight has spurred chaos. 
Teachers need to talk about more than academics with their students, she continued. Kids need to trust her before they can learn from her. She discusses very personal topics with them, such as their damaging home environments. She adopts her learning plans based on what the kids are going through outside of school hours.
Despite the inherent challenges in her work, that is where Baker wants to be. She cares about her kids and works hard to learn their strengths and passions. 
"I realized when I was in school that there were a lot of kids who would struggle and teachers would give up on them," Baker said. "That's the kind of population I work with, those who get lost on the side. Other teachers may have said, 'This kid is too difficult,' but I know that every kid is capable of anything they put their mind to; they just need an adult to advocate for them."