INDIANAPOLIS—Every year during the Indiana State Fair, you can see hundreds of farm animals like chickens, goats, cows and even llamas. 
One thing you might not expect to see: house cats.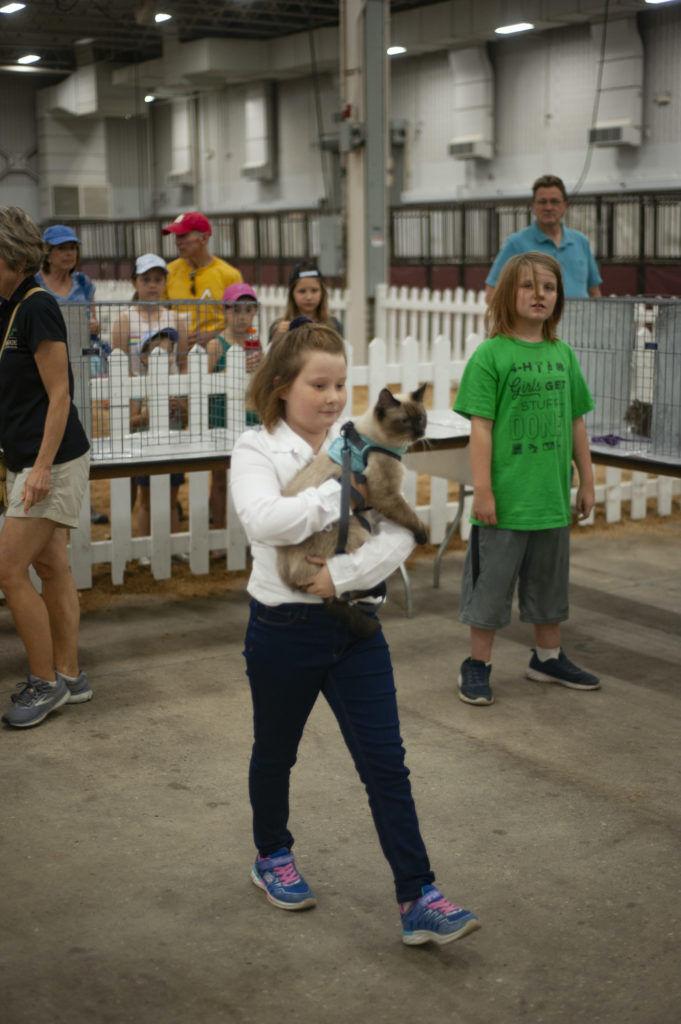 But again this year, on Aug. 4, a domestic cat show made its way to the fair, which gave two young girls the perfect opportunity to show off their furry friends. Kaitlyn and Kelsey Frick competed with their two cats, Nick and Oliver. 
Kaitlyn and Kelsey are from Plymouth, Indiana, a small town just south of South Bend. Kaitlyn is 12, and Kelsey is 8. Both girls have also shown dogs at the state fair while being a part of the 4-H program. That's a program for children and youth to "complete hands-on projects in areas like health, science, agriculture and civic engagement in a positive environment where they receive guidance from adult mentors," according to the organization's website. 
Both girls proudly stood by their decorated cages and seemed excited to compete—though the same could not exactly be said for their cats.
The cages were decorated with purple and green construction paper for Nick and stars mimicking Vincent van Gogh's "Starry Night" for Oliver. 
"I always wanted a cat, and [the contest] sounded like so much fun, so we tried it at our county, and we got champion and division champion," said Kaitlyn.
Neither girl walked away empty handed from the state fair either. Kelsey competed in the first round of showings with Oliver and was named grand champion in her division. Kaitlyn came away with reserve grand champion with Nick in her division. 
Judges for the domestic cat show consist of 4-H volunteers from counties all over the state. Domestic cat shows are nothing new, but this year was the first year back since the COVID-19 pandemic. 
"I have been a part of the [4-H] extension for seven years, and every year there has been a cat show at the state fair," said 4-H volunteer Mindy Mays. 
Within the cat category, there are multiple contests 4-H participants can compete in, such as kitten showing, adult cat showing and purebred cat showing. Most of the furry contestants did not seem interested in getting looked at by the judges, which made a lot of their owners particularly nervous. 
"I think 4-H in general teaches the kids skills that they will use later in life. So showmanship, for example: You are interviewing with a judge—this is a skill you will use literally for the rest of your life," said Mays. 
Claire Castillo is a reporter for TheStatehouseFile.com, a news website powered by Franklin College journalism students.