Women make up 50.8% of the population and 48% of the American workforce, but only 27% are engineers.
To combat this, the Society of Women Engineers (SWE) is holding an event called Invent It. Build It. (IIBI) Oct. 23 at the Indiana Convention Center for girls in grades 9-12. Billed as "the world's largest conference for women engineers," according to SWE's website, it offers girls the chance to: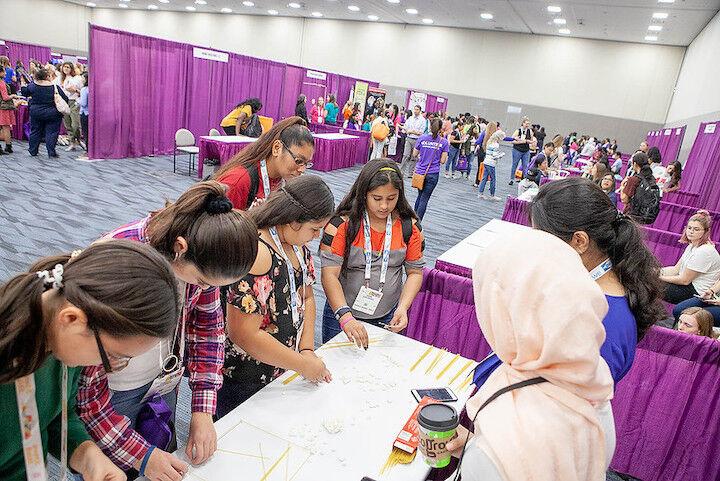 Participate in hands-on engineering activities.
Learn how engineers can make a difference. 
Talk to female engineers and learn about their careers.
Meet with engineering companies. 
Talk to different colleges and universities.
According to SWE, four out of five who previously attended the event said the conference's activities strengthened their confidence with engineering-related skills. 
That's exactly why Dana Day, the high school coordinator for Invent It. Build It., got involved. She is an engineer herself and joined the Society of Women Engineers right out of college 15 years ago. 
"One of the coolest parts is that each table is with a volunteer role model," Day said. "They get to talk and learn about what being an engineer is like in real life—not just what it looks like from textbooks or school." 
Growing up, Day said she only ever saw male science teachers and engineers. 
"I think part of what SWE does really well is getting those role models in front of students," she said. "I think it really does make a difference. We talk about how engineering isn't just about sitting behind a computer and crunching numbers. You can really have an engineering life where you are making a difference and making an impact." 
Mary Zeis is another engineer and also the parent educator coordinator. She joined the Society of Women Engineers her first year of college in 1974. "There weren't many girls in engineering back then, so it was important to stick together," she said.
Zeis will aid parents and teachers in learning about college admissions, scholarships, resources and engineering careers. Because they greatly influence what careers kids pick, Zeis' main goal is helping them learn more about what engineering is and why it's a great option for girls. 
If interested in attending this year's Invent It. Build It., follow this link. 
Ashlyn Myers is a reporter for TheStatehouseFile.com, a news website powered by Franklin College journalism students