Emerson Axsom is like many 16-year-olds in the United States. He likes to spend weekends with his friends, hanging out with his family and getting to do things that he loves.
What is not usual for Axsom is that he does all of these things while driving a 350-horsepower sprint midget car around a quarter-mile dirt track every weekend.
Axsom is currently a competitor in the United States Auto Club's NOS Energy Drink National Midget Series and Midwest Regional Midget series. He currently sits sixth in the national division with 378 points and fifth in the Midwest series with 231. He also got his first win in a midget car April 30 when he won at the Kokomo Grand Prix in Kokomo, Indiana.
Axsom has had a lot of help as he has gone through the ranks of dirt racing. His dad, Joe, raced dirt cars for years as well as worked on cars for other drivers, such as World of Outlaw driver Tony Stewart. Joe has been right by Emerson's side since he started racing as his crew chief and mentor. His mom, Jenny, is also involved in Axsom's career. She runs the team Facebook page and acts kind of like a pseudo manager for the young driver.
You might think that any mom would be worried for her son every time he steps into a car, especially with how many crash videos one can find on YouTube. But it's not Emerson that Jenny is worried about.
"No, I worry more about Joe getting hurt. I have seen crew members get hurt before the drivers. Joe has provided Emerson with the best safety equipment out there, and he is safer driving than playing any other sport."
But this is only Axsom's second year driving in his current division of midget sprint cars, with his rookie campaign coming right in the middle of the COVID-19 pandemic. And like many drivers at that time, he had to fight his way to get to that first win in Kokomo.
The COVID-19 pandemic hit the United States last year and shut everything down. Many sporting locations, such as tracks, stadiums and local ballparks, were closed to help stop the spread of the virus. This quick closure led to these small teams and tracks to start looking to next year and the possibility of not racing.
Many teams develop their budgets from winning races. Michael Wesselman, who drives super late model dirt cars, said that it usually costs around $5,000 a month to race. During a non-COVID year, most of the money won goes right back into the car and team for racing, which helps to keep money in the driver's pocket. 
When the pandemic hit and many tracks closed, it came at the beginning of the season and races didn't resume until the end of the season. That meant less money to be won from race wins in a month.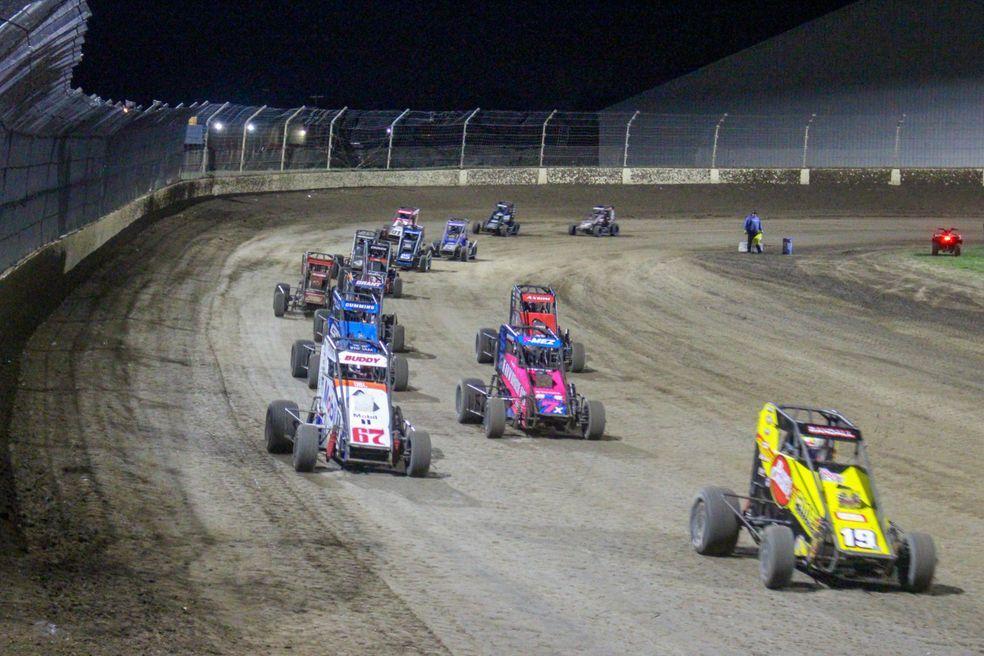 Other factors that affected costs were possible cancellations from weather and track problems. These could easily shorten a season for drivers to get wins.
Axsom said that it was tough to run races early in the season because the series was scheduling week to week. However, in last year's USAC midget season, only three races were cancelled because of rain, so drivers in that series were able to race more than drivers like Justin "Jug" Wethington, who races locally and had to contend more with possible cancellations from COVID cases. Wethington did not start racing until June 19, and most of those races were at Brownstown Speedway. He spent the rest of his time helping his girlfriend, Haven Link, prepare her own car for the 2021 season.
Luckily for many drivers, they were actually able to save money through different means. Axsom is a member of Petry Motorsports, a bigger team with ties to Toyota factory teams. For Petry Motorsports and Axsom, there was no question about running in the 2021 season. It was the same for Wesselman, who also was not worried about racing this season. This lack of concern over racing came from being able to keep sponsors with the team. Wesselman's sponsors were able to keep working during the pandemic, which allowed them to continue sponsorship of the car. But there were some, like Jacoby Hines, who were not sure.
Hines drives open-wheel dirt modified for his own team and was only able to race in 16 races in a usual 30-35 race season. So he was not making as much money that year. When he sat down to look at this season, he had to really consider the money issue.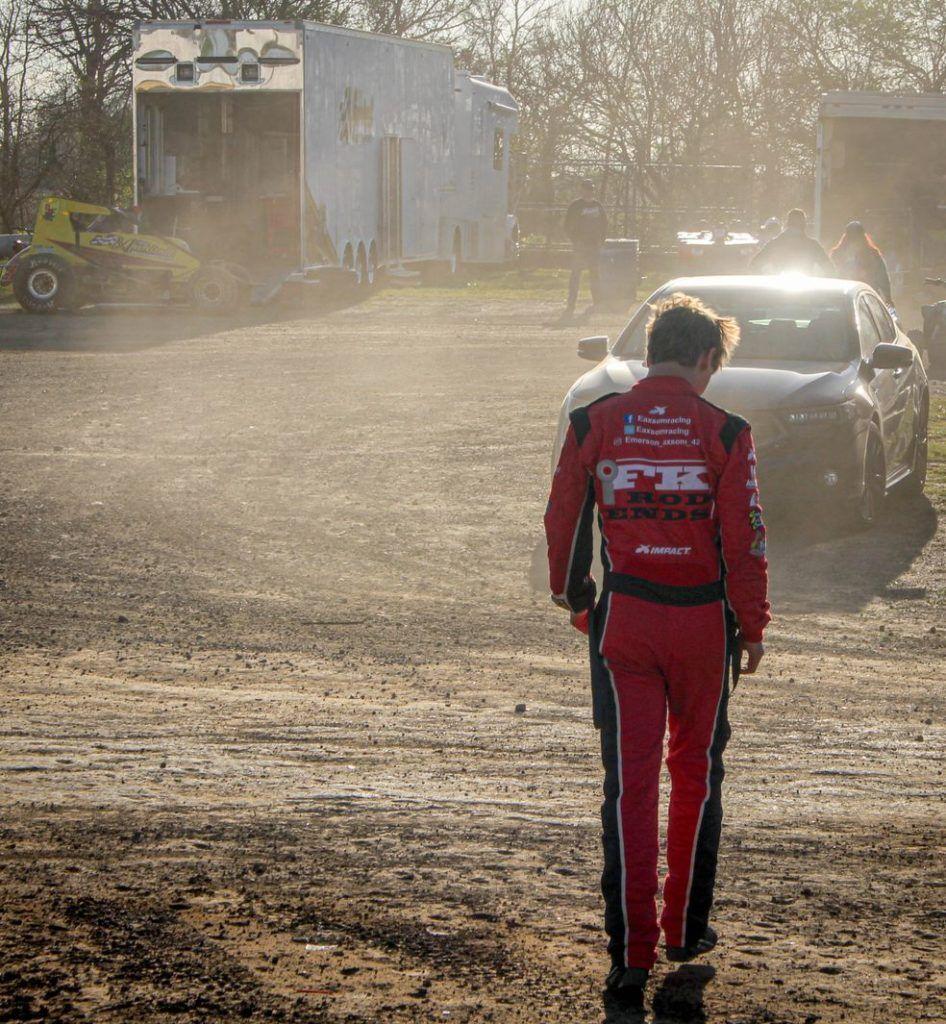 "There was part of me that thought that (we wouldn't race the 2021 season)," he said.
Although he didn't have the best bank account, Hines has still been able to drive. However, that tight budget has already affected him in the season as he has blown one engine in the first five races of the season. The engine for an open-wheeled modified car costs about $5,000 to $7,000. This means if a team has a tight budget, a major replacement affects how much a team with this budget has available if something else breaks on the car.
It was not just the teams and drivers who had to make a decision on the next season. Tracks also had to consider if they would be able to host races the next year. When the 2020 season did start, many of the tracks could not run races where fans were allowed in attendance, which is a big part of the financial "take" that these smaller tracks run on.
There is also the possibility that the number of fans will not be the same as before the pandemic. According to Jim Price, promoter of Brownstown Speedway in Brownstown, Indiana, the pandemic restrictions hurt the track since it could not let fans into the stands until  May. This meant that Brownstown Speedway lost 40% of the profit it would have made in a regular season. But Price thought that there was a decent turnout of fans.
"When we were able to run, there wasn't anything else going on. There were no ball games or anything like that," Price said.
And that was evident at the Kokomo Grand Prix, as what looked like the bleachers were packed with fans who came to watch the races. The hope is that there will be plenty of fans to attend the races during the remainder of the season. 
This is also true of the other component of how tracks make their money, the entry fee. One problem that could occur would be lower car counts entering races. But Price and Hines both see the opposite happening.
"There has actually been a higher car count," Hines said.
Another part of the race scene that has been affected by the pandemic is the hospitality sector. Hospitality is very important in the racing scene as not only does it help out the team with getting food and having a place to go between races, but it also helps teams with attracting more sponsors and keeping the sponsors that are already in place. 
But then the pandemic hit. In an article written by resturantbuisness.com, it mentions that around two-thirds of caterers had to suspend their programs. Matthew Krebs works for Morgan Lucas Industries, which used to run cars at races but now runs hospitality instead. Before the pandemic, Krebs usually set up the hospitality area for the teams he was working for and then cooked the meals. But when the pandemic hit, it shut him down. Krebs said that he had not traveled to a single race since February 2020. And for four races that Krebs did get to do, he had to do all of the cooking in the shop and then send it to the teams pre-packaged.
Krebs said that now there has been a very slow return to normal and much of that depends on the states. In states like Florida, where the government has become very relaxed recently, he is able to do more stuff for hospitality than he would be able to do in a state like Nevada, where the government still has very strict rules.
From the scenes of Kokomo, it does look like local dirt tracks are getting back to normal from the pandemic. Although there will still be pandemic protocols in other states, the fans in Indiana are ready to watch their favorite drivers as well as the drivers like Axsom getting a chance to prove themselves in front of them.
And with Indiana's biggest week of small dirt track racing taking place now through June 13, which is dubbed Indiana Midget Week, there is a good chance that Axsom will finally get a shot to drive in front of a sold-out crowd.
Brandon Barger is a recent graduate of Franklin College.