Learn about the 50 governors
to see our interactive graphic.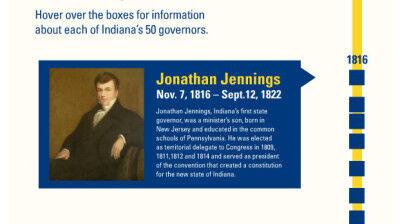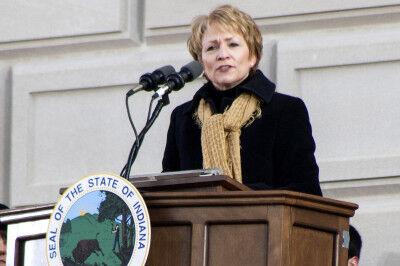 Radio report
TheStatehouseFile.com's Olivia Covington reports on Monday's inauguration. [audio src="http://thestatehousefile.com/wp-content/uploads/2013/01/Inauguration-Speeches.mp3" audio width="250"] INDIANAPOLIS – Braving temperatures in the 20s, Gov. Mike Pence took the oath to serve as Indiana's 50th governor Monday, promising in his speech to keep Indiana on its current path of fiscal responsibility so that the state can be a "torch" for other states to follow. "This is our time to shine," Pence, a Republican, said as more than 1,500 onlookers bundled in hats, gloves and heavy coats looked on. "Our state is poised for greatness." The new governor sat in President William Henry Harrison's chair during much the ceremony and he used a Bible that belonged to President Benjamin Harrison. Indiana Chief Justice Brent Dickson administered the oath to Pence, as well as Lt. Gov. Sue Ellspermann and Attorney General Greg Zoeller. Among the onlookers were former governors Mitch Daniels, a Republican, and Evan Bayh, a Democrat. Pence thanked them both for their leadership and Daniels especially for his eight years of service. He said that Daniels put Indiana on a track that makes it the envy of many other states. "It's a good thing I'm only succeeding you, because no one will ever replace you," Pence said to Daniels. While Pence is saving most of his legislative agenda for the upcoming State of the State address on Jan. 22, he did mention a few things about the budget and education. "We must continue to live within our means," Pence said. "Hold the line on spending. And let Hoosiers keep more of their hard earned income. We dare not squander this opportunity. We want to leave our communities and families better." He talked about the challenges of education and said that they can fix the problems with the system. He said that his wife, Karen, who is a teacher, never fails to remind him that Indiana has the very best teachers. [caption id="attachment_9091" align="alignright" width="285"]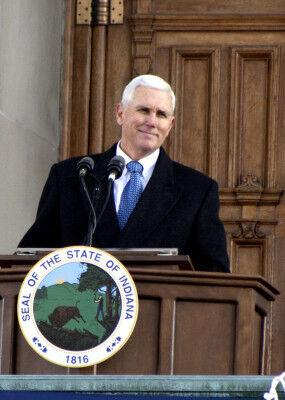 Republican Mike Pence spoke to a crowd of about 1,500 supporters just minutes after he was sworn in as Indiana's 50th governor. Photo by Ellie Price, TheStatehouseFile.com[/caption] "We must work together to put kids first," Pence said. "There's nothing that ails our schools that can't be fixed by giving parents more choices and teachers more freedom to teach." Democrats said they were looking forward to working with Pence during this session and seeing what steps he will take during his first term. "We look forward to seeing his full legislative agenda soon," said Dan Parker, chair of the Indiana Democratic Party. "We hope it will focus, as he pledged, on jobs and the economy and not on issues that will divide our state." Pence said that Indiana is "the heart of the heartland" and that the men and women who made the territory a state were hard working individuals. He also spoke at length about Indiana's flag, saying the torch emblazoned in the center signified light in a dark time for the [caption id="attachment_9135" align="alignright" width="400"]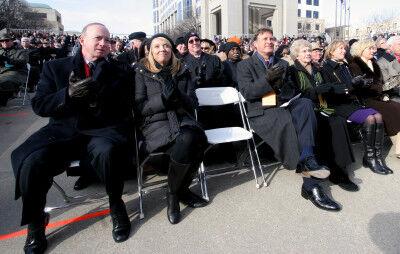 From left, outgoing Gov. Mitch Daniels, his wife Cheri Daniels, former Gov. Evan Bayh, and other dignitaries applaud after Lt. Gov. Sue Ellspermann finishes her speech. Photo by Eddie Castillo, TheStatehouseFile.com[/caption] nation. He said that once again, Indiana is poised to be a light for other states to follow. "For many Americans, today is another time of uncertainty," Pence said. "It is a time where the disconnect between those who serve and the served has never seemed wider. But not here in Indiana. Indiana has chosen a different course." Union protestors could be heard shouting down the street from the inaugural ceremony. They were upset at changes the Department of Workforce Development recently made. "We had already planned this day to come out and protest," said Grigitte Yancy, president of American Federation of State, County and Municipal Employees Local 3826. "We forgot about the inauguration." [caption id="attachment_9136" align="alignright" width="400"]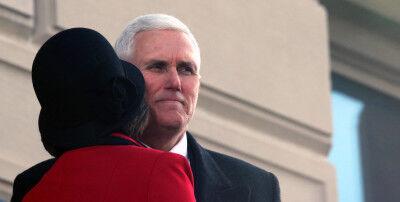 Gov. Mike Pence embraces his wife, Karen, after commencing his Inauguration speech Monday. Photo by Paige Clark. TheStatehouseFile.com[/caption] Pence said he was thankful for the trust Hoosiers had put in him and promised to honor that trust. "The time is now and the air is cold," Pence said. "So let's get back inside and get to work. The best is yet to come." After the ceremony, Pence and Ellspermann went into the governor's office and signed documents making the transition into their respective offices official. Zach Osowski is a reporter for TheStatehouseFile.com, a news website powered by Franklin College journalism students.