INDIANAPOLIS – State employees from 38 different departments are being praised for their decades of hard work and dedication to the state. Gov. Eric Holcomb honored the employees who are celebrating 35, 40 and 45 years with the state during the Governor's Long-Term Employee Reception at the Statehouse Wednesday. [caption id="attachment_33424" align="alignright" width="381"]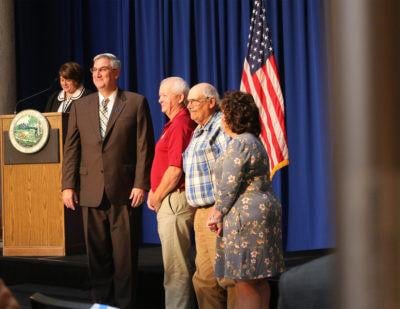 Gov. Eric Holcomb honoring state employees with 35 plus years of service.
Photo by Makenna Mays, TheStatehouseFile.com[/caption] "This is a highpoint," said Lucinda Culp, regional dispatcher for the state police. "This is the first time I've really been officially recognized in 35 years, so this is impressive." Culp has been a dispatcher for the State Police for 35 years. "Many times when things are going well, and they are, it's that office holder or high-profile CEO that gets credit and obviously we know it takes teamwork and teamwork at all levels in all agencies to make sure things are headed in the right direction," Holcomb said. All state employees also had their picture taken with the governor and others in their department in recognition of the governor's appreciation. "I just want to express my gratitude for the hardworking jobs that you've done and just thank you once again for continuing to share your knowledge and experience all those instincts that come with all those years of practice in your areas," said Holcomb. After the governor's reception, the honorees and their families were offered refreshments. Culp said the ceremony made her feel special, something that does not always come with the job. "Appreciated, which comes very seldom that we feel appreciated," said Culp. "This is very cool."
Makenna Mays is a reporter for TheStatehouseFile.com, a news website powered by Franklin College journalism students.