INDIANAPOLIS — When he has a chance to support his favorite cause, veterans, while doing his favorite activity, riding a motorcycle, Mike Clark is the first to attend.
"I get to bring attention to and show support to POWs and veterans," Clark, of Indianapolis, said. "And when I get a chance to support the governor and the Indiana National Guard Relief Fund, I'm going to do it."
[caption id="attachment_33442" align="alignright" width="388"]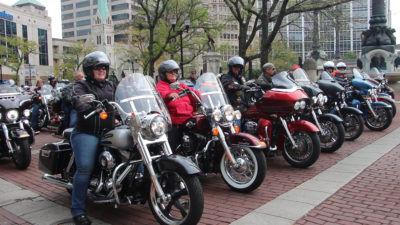 Dozens of bikers prepare to ride in the 13th annual Governor's Ride hosted by Gov. Eric Holcomb and ABATE. The bikers will ride 65 miles. Photo by Adrianna Pitrelli, TheStatehouseFile.com[/caption]
Clark was one of dozens of bikers who took a 65-mile trek from Monument Circle to Seymour Friday to support veterans in the 13th annual Governor's Ride hosted by Gov. Eric Holcomb and American Bikers Aimed Toward Education — or ABATE — an organization that informs bikers about motorcycle safety.
"This has raised a tremendous amount of support, about $70,000 to date, and that means the world," Holcomb said. "This is what being a Hoosier is about. This is true Hoosier patriotism in action."
The ride is free, but bikers are encouraged to make a donation. All money raised goes to the Indiana National Guard Relief Fund provides money to service members and families who are in tough financial situations due to being mobilized or because of unexpected financial hardships.
"It's nice to be sent out by the governor because when we are, it brings a lot more attention and support to the National Guard Relief Fund, and we really appreciate it," Clark said. "I also really appreciate the people who come out and donate because that helps people who really need it."
While the governor usually leads the ride, Holcomb sat out this year but plans to ride next year.
"There would be nothing better in my world than if we could join you for next year's ride," Holcomb said. "It definitely won't take you four years to convince me to ride this."
The ride isn't just about raising money. It's also about having fun.
"I'm also looking forward to meeting people and talking to them because it's really an enjoyable time," Clark said.
The riders were accompanied by generals, police officers and state legislators.
Adrianna Pitrelli is a reporter for TheStatehouseFile.com, a news website powered by Franklin College journalism students.