Staff Report TheStatehouseFile.com INDIANAPOLIS -- Gov. Eric Holcomb has been selected by the Indiana Chamber of Commerce as the 2019 Birch Bayh-Richard Lugar Government Leader of the Year for his "Next Level" agenda, in particular his focus on the opioid epidemic and its impact on community, families and the workforce. [caption id="attachment_38026" align="alignright" width="400"]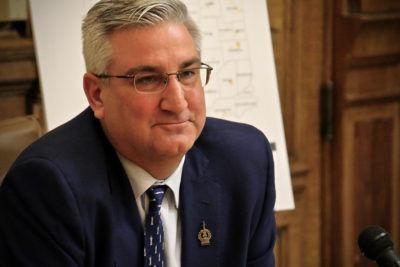 Gov. Eric Holcomb named the Indiana Chamber of Commerce Government Leader of the Year.
Photo by Bryan Wells, TheStatehouseFile.com[/caption] "Substance misuse has hit Indiana hard and the governor has responded with a variety of initiatives to help Hoosiers," said Kevin Brinegar, president and CEO of the Indiana Chamber. "His partnership with us on the
program has enabled employers throughout the state to receive detailed guidelines on what steps they can take and a better understanding of the positive role they can play with their workers to get them back to being a more productive employee and person." Holcomb said in a statement that as he's traveled throughout Indiana, "I've met many individuals directly touched by the drug crisis. They want their life back, their family back and they want to recover and realize their true potential. We're working every day to give more people that chance." The chamber also highlighted other aspects of Holcomb's agenda, including the "Last Mile" program now in place at five correctional facilities to boost job skills for inmates; a jobs initiative that provides state funding for companies seeking to retrain workers; long-term road funding initiatives; broadband expansion in rural areas; and increased pre-K opportunities for low-income children. The award will be presented to the governor, who is seeking re-election in 2020, at the chamber's annual awards dinner on Nov. 7. The Government Leader of the Year award has been given since 1990. It was renamed this year in honor of the two senators – Bayh, a Democrat, and Lugar, a Republican – who each died earlier this year. TheStatehouseFile.com is a news website powered by Franklin College journalists.