By Makenna Mays TheStatehouseFile.com INDIANAPOLIS – Festively decorated trees, all as different as snowflakes, are covering the halls of the Indiana Historical Society as they kick of the holiday season with the annual Festival of Trees. "It's very magical, especially if you see it through the eyes of children," said Tom Borman, the Historical Society's director of events and donor relations. [caption id="attachment_33666" align="alignright" width="308"]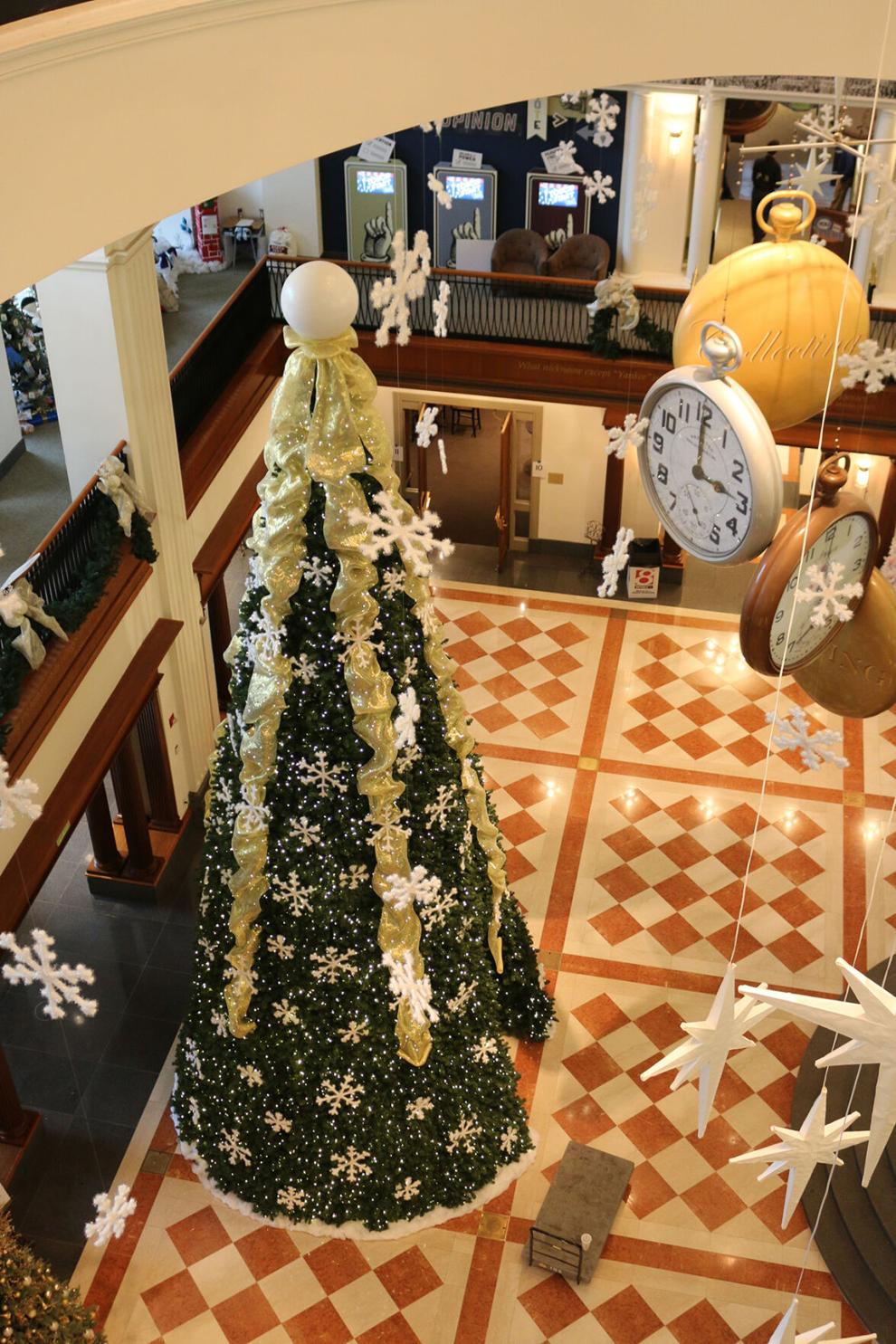 The 30-foot center piece tree for the Festival of Trees.
Photo by Makenna Mays, TheStatehouseFile.com[/caption] In its fourth year, the Festival of Trees will have 80 decorated Christmas trees spanning four floors of the Historical Society. Different Indiana companies and organizations sponsor all of the trees. The festival will be open to the public from Nov. 17 to Jan 6. It takes a week to 10 days to set up all of the trees in the Historical Society, including three days to erect the 30-foot centerpiece tree. That tree, sponsored by the Salvation Army, while simple in its design, is an eyecatcher with its evergreen branches adorned with gold ribbons and white snowflakes. "The center piece tree is just symbolic of the whole Festival of Trees," Borman said. "We're not trying to compete with all the sponsors." In its first year, the festival only had 25 trees, 50 in the second year and 72 in it's third. Each tree is individually decorated by a sponsor. "We can't do it without help from all of our wonderful sponsors and volunteers," Borman said. Returning for third year, owners of Brickhouse Coffee, Jared and Lora Sayton, have a tree set up in the downstairs floor of the Historical Society. [caption id="attachment_33672" align="alignleft" width="264"]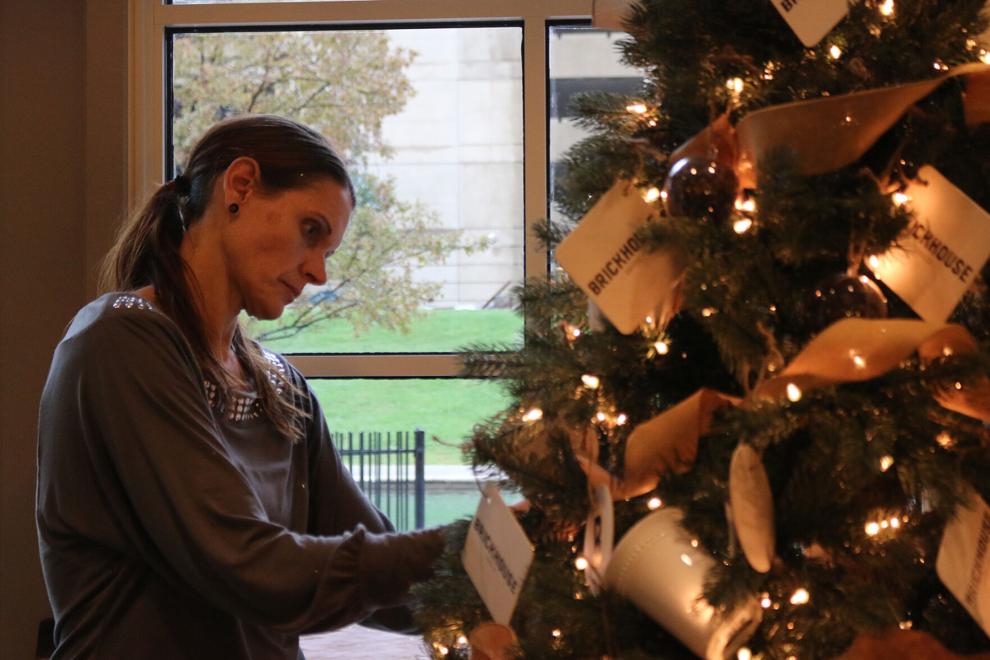 Lora Sayton, one of the owners of Brickhouse Coffee, decorating the tree for Indiana Historical Society's Festival of Trees.
Photo by Makenna Mays, TheStatehouseFile.com[/caption] Their creation is decorated with coffee mugs and ribbons, reflecting that cozy but modern vibe coffee shops have. "We love partnering with the local community, and we've built our business around relationships," said Jared Stayton. Jared and Lora started out as missionaries in southern Spain for a year and a half before realizing that they wanted to create a better way to do missions. Brickhouse Coffee, a family owned business, began in 2013 and has since moved to the east end of the Jonathon Byrd's Building in Greenwood. "We don't want to be just a supplier that's going to be a short-term deal," said Jared Sayton. "We're interested in the long-haul and really building a relationship with our customers that become our partners." The Festival of Trees allows the Saytons that opportunity to connect with the community, which is one of the reasons they return to the festival. "I want to become that locally known old-school coffee roaster that has a great product and is approachable by everyone," said Jared Sayton. [caption id="attachment_33668" align="alignright" width="264"]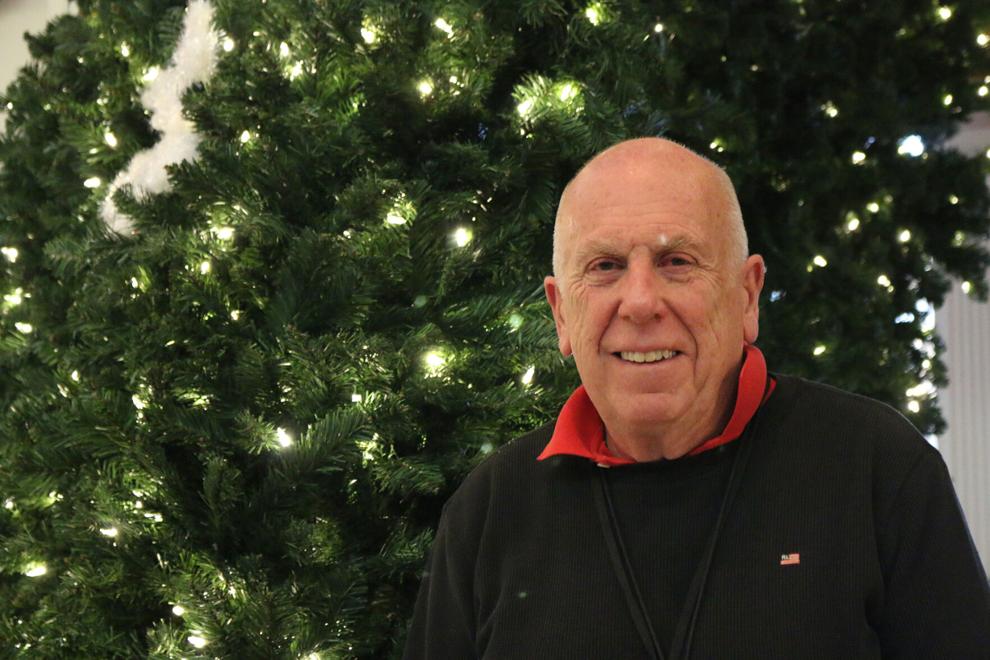 Tom Borman, IHS director of events and donor relationship, is one of the main organizers of this event.
Photo by Makenna Mays, TheStatehouseFile.com[/caption] Brickhouse Coffee will also be hosting and catering a new event being held at the Historical Society on Nov. 26, the Sugarplum Breakfast. "The Sugarplum Breakfast is our twist on breakfast with Santa," said Callie McCune, coordinator of public programs for the Historical Society. The breakfast will give people time to see all of the trees before the crowds arrive Brickhouse Coffee will be serving their breakfast items as well as some artisan treats such as steamed hot chocolates or caramels. "We're definitely a kid-friendly type of caterer," said Loran Sayton. Dance Refinery will perform at the breakfast and is putting a twist on the Nutcracker performance by mixing the classical dances with modern interpretations. Visitors will also be able to take pictures with the characters. The Indiana Historical Society has a full schedule of holiday programs including daily holiday sing-alongs and the elf on the shelf. Weekly programs include twilight Tuesdays and vintage Santa. [caption id="attachment_33674" align="alignleft" width="219"]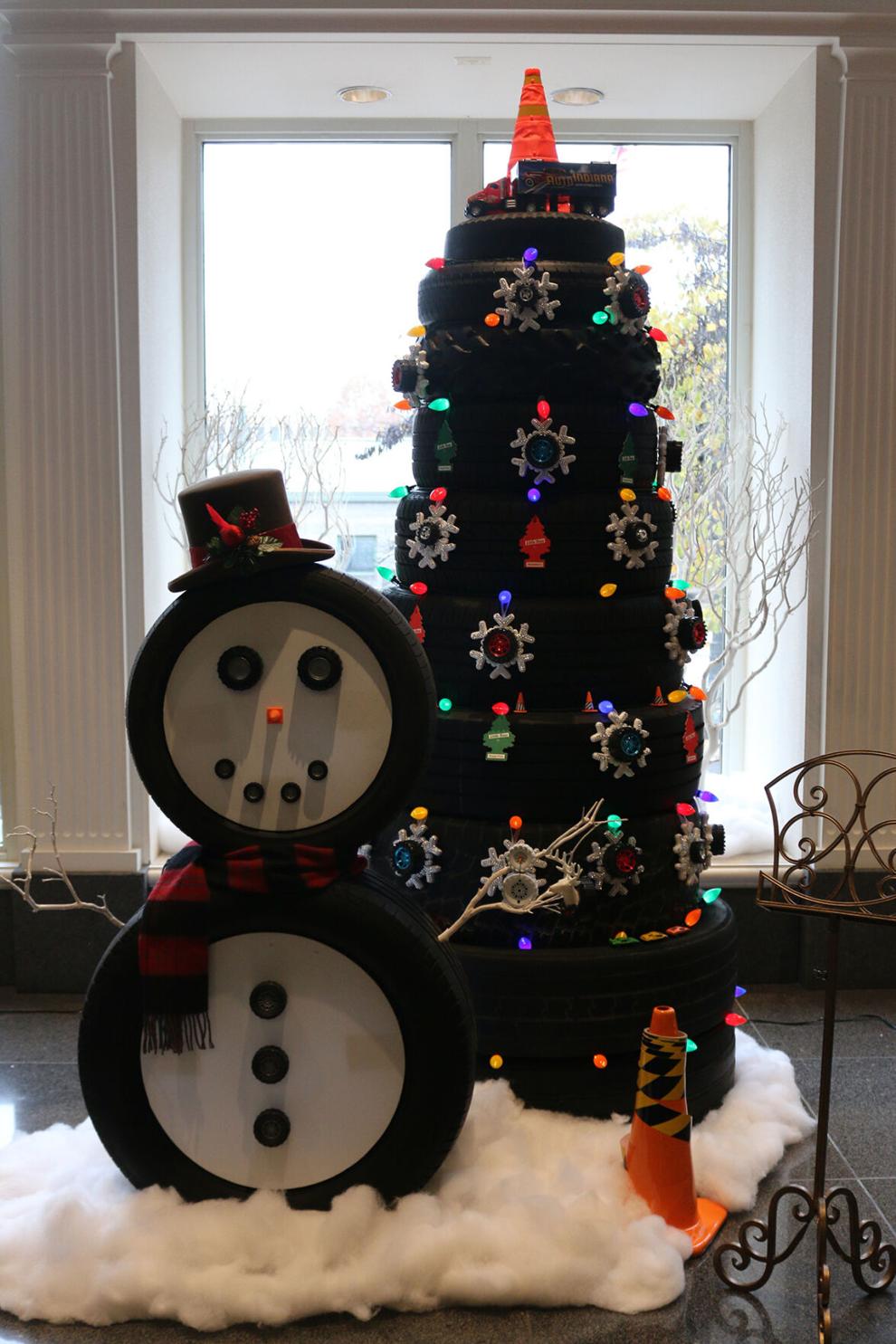 Sponsor: Alice and Stephen Tarr
Photo by Makenna Mays, TheStatehouseFile.com[/caption] During twilight Tuesdays, visitors can enjoy the view of the trees as they are lit up at night, one of Borman's favorite events. "When it's dark, and we're even lucky on overcast days, it just sparkles more than when the building is flooded with light," Borman said. Borman has hopes that this event will continue to grow and expand, perhaps to even outside the building. This event features such an array of tree designs that it opens the door for many ideas and partnerships. "A tree really doesn't have to be a tree," Borman said. A full list of holiday events and programs can be found on the Indiana Historical Society's
$9 Adults
$8 Seniors
$5 Children (ages 5-17)
IHS members and kids under 5 are free
Makenna Mays is a reporter for TheStatehouseFile.com, a news website powered by Franklin College journalism students.