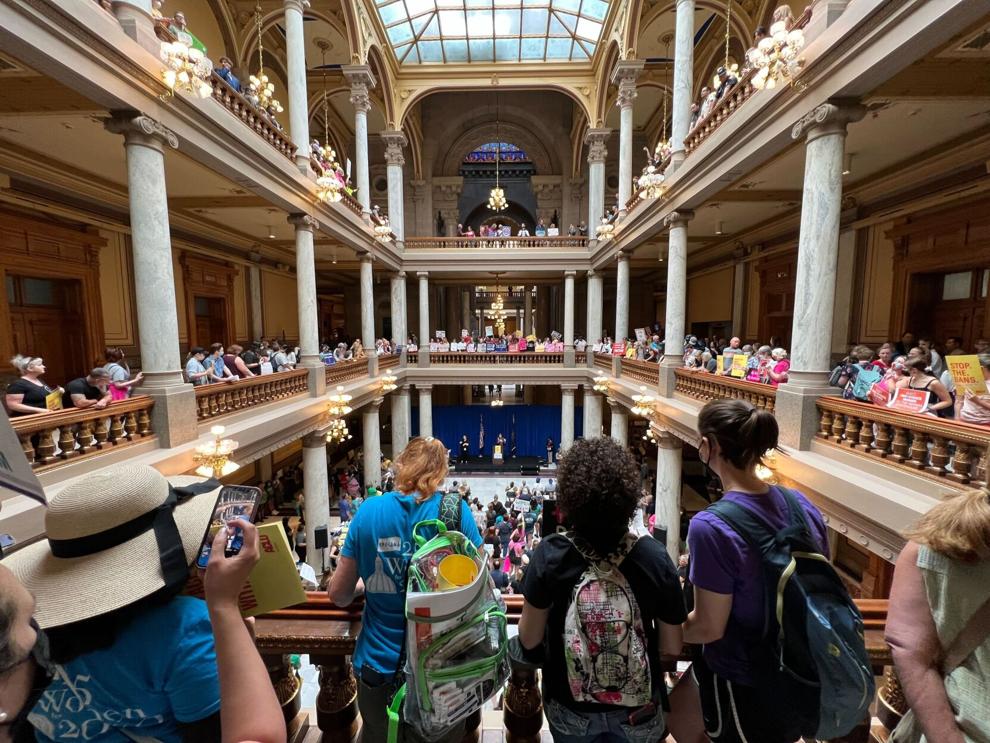 On Monday, the Statehouse was loud.
It was loud on the perimeter, as a man with a microphone prayed for the passing of the abortion bill and pro-choice advocates used whistles and trumpets to drown him out.
It was loud as people lined up outside the entrance, where a young woman screamed in an older woman's face: "You don't know what it's like!"
It was loud around the Statehouse rotunda, where Hoosiers leaned against the gallery railings shaking their signs, chanting, begging to be heard.
It was so loud, it was hard to hear.
With the overturning of Roe v. Wade by the U.S. Supreme Court in June and an anticipated state ban coming sometime in the next two weeks, protestors on each side are passionate and desperate.
Betty Hill and her daughter were inside the Statehouse protesting the anti-abortion bill. Their sign read, "If you don't like abortion, don't have one."
Hill said she was there to protest the control of her, her children's and her grandchildren's bodies.
"Hitler did that. He said that women did not have the right to their own body. That's what we're becoming," she said.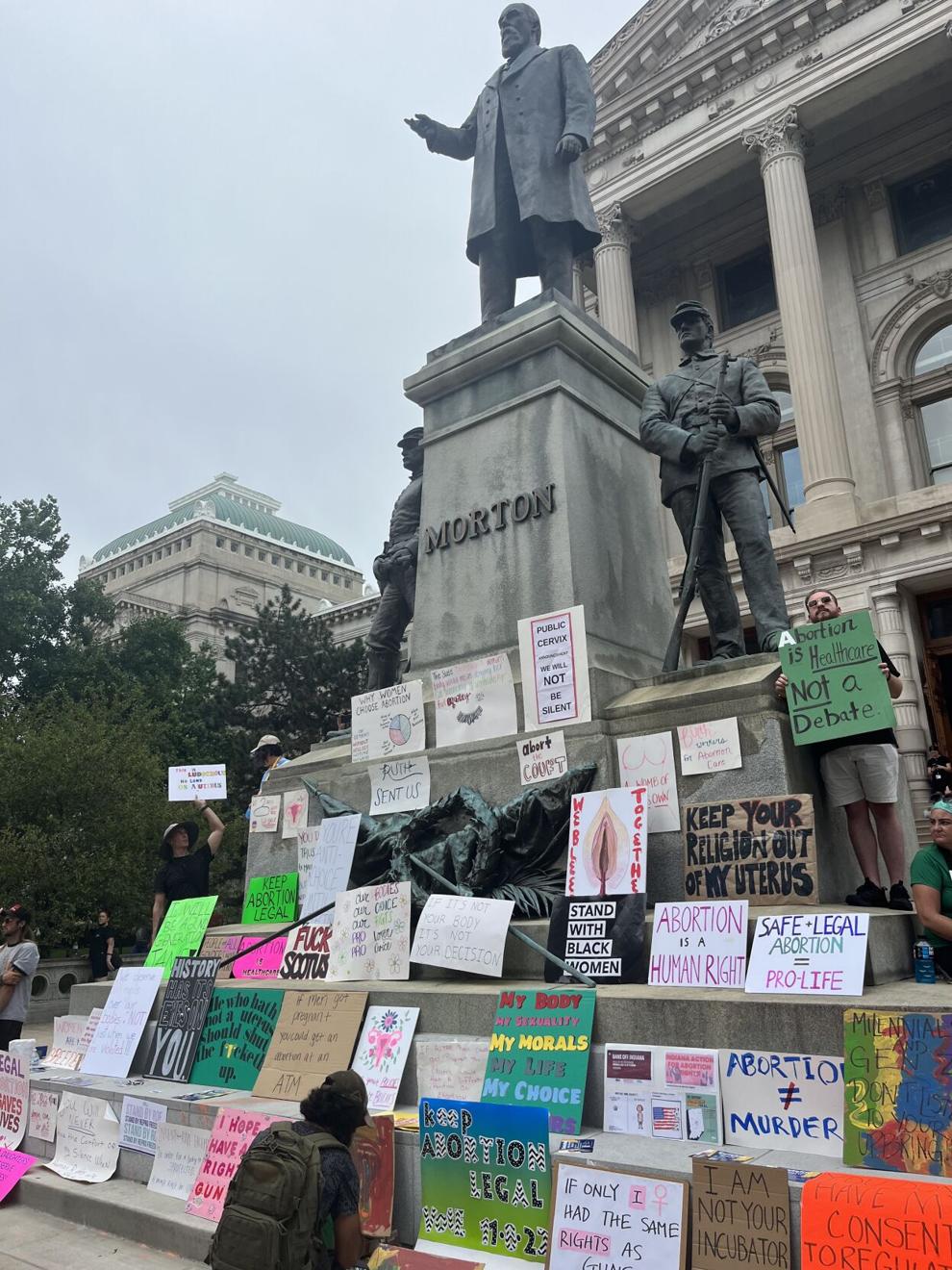 Hill was attending high school in a rural community when Roe v. Wade passed. She said she remembers some of her friends being kicked out of school for being pregnant while the men they had been with got a pat on the back.
"Is that what we're going back to?" She paused. "Is that what we're going back to?" 
Gil and Erica Bezy drove from Clarksville to protest abortion no matter the situation. Their sign read, "Abolish abortion now." 
Gil said that the church has been silent for too long, and it's up to Christians and their pastors to make abortions end.
He said that in 140 years, Hoosiers will look back on this time the same way we have with slavery, and legislators will be remembered for choosing good or evil.
Abortion, he said, is murder.
"The decision needs to be whether I'm willing to sacrifice and kill that other human being because something happened to me and I don't want it. It's not that woman's choice. It's not her choice. We want to stand up for the innocent and the innocent's blood. They have a right to life."
Erica stepped in.
"My mom was raped by five guys and tied up, and she had me and my sister. We're twins. And she chose to give us life."
She said that she and her sister were adopted and have led very fulfilling lives, and she admires her mother for going through with the pregnancy.
"People can go nine months. She was horribly raped, by five guys. God got her through it," she said.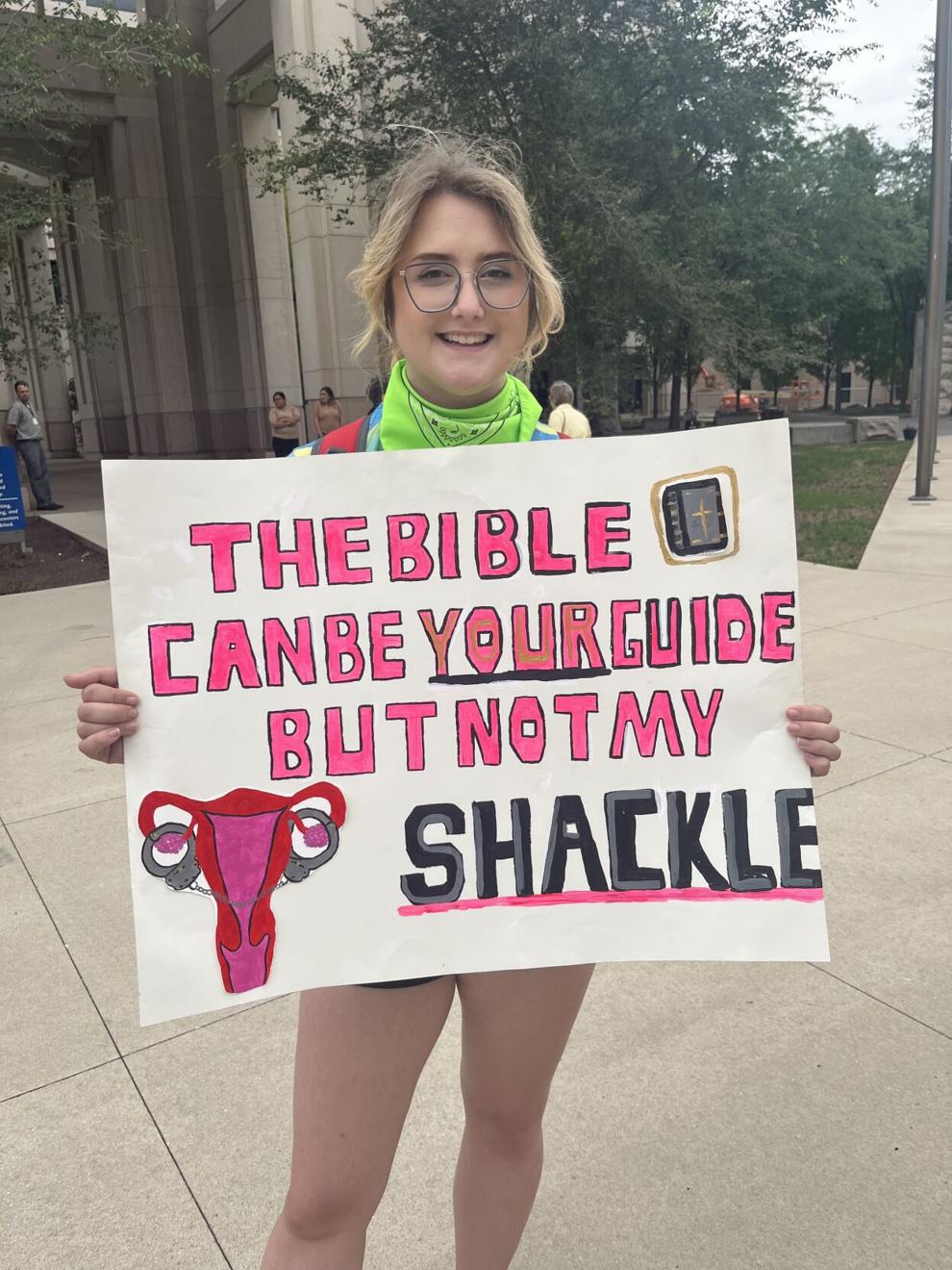 Laura Jones stood outside the Statehouse with her niece and a sign that somehow, in bright pink, incorporated a uterus, chains and a Bible. It said, "The Bible can be your guide but not my shackle."
Jones fears that she will lose the right to her embryos she has kept in storage.
"I would like to know if they're going to tell me what we can do with our own embryos. That's very upsetting for me," she said.
She attended Monday's protest for more than her embryos, however. She attended for her family.
Her grandmother had multiple unsafe, illegal abortions in the 1930s, and she was lucky to survive.
"I don't want to see women going back to that," she said.
Protests are expected to carry on for the rest of the week.